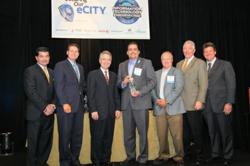 San Diego, CA (PRWEB) June 20, 2011
At this year's 4th Annual Information Technology Executive of the Year Awards held on May 17 at the Doubletree Hotel in San Diego, California, Richard Richison was presented with the San Diego Business Journal's 2011 IT Executive of the Year Award.
An award designed to recognize the most prominent IT executives for their work in the San Diego area, Richison was nominated for the award when with Managed Solutions, beating out more than 47 finalists. Richison received the highest honor of the night, being recognized for his work around cloud solutions, accomplishments as a director of engineering and for his community involvement with organizations such as Just In Time for Foster Youth. Panel moderators consisting of Tawnya Boulan, Deputy Attorney General Office of the District Attorney, Ruben Barrales, President and CEO of the San Diego Regional Chamber of Commerce and Debra Rosen, President and CEO of the San Diego North Chamber of Commerce presented Richison with the award. In addition to this award, Richison was also nominated for the San Diego Magazine Top Tech Exec Awards.
Since receiving the San Diego Small Business Journal award, Richison has parted ways with Managed Solutions and has recently joined KnowledgeCentrix, an Orange County based IT company, where he intends to help build their San Diego presence.
For additional information on KnowledgeCentrix please visit http://www.knowledgecentrix.com.
# # #