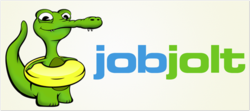 Jobjolt.com gives job seekers the expert advice they need and offers a voice to those who can't afford executive outplacement services.
Wilmington NC (PRWEB) June 14, 2011
Jobjolt, Inc. today announced the launch of Jobjolt.com, a new employment portal designed to give job seekers a competitive advantage in a tight job market. The site features original content, including podcasts, videos, interviews with industry executives and articles focused on professional development and employment. Content is geared to established professionals in transition, college grads and those about to enter the work force.
Created by a team of leading national recruiters, Jobjolt provides free career counseling content for job seekers of all levels, as well as premium content for a nominal monthly charge. Services available through Jobjolt.com include resume writing, a database of resume templates and critiqued resumes, web resume development and career consulting services. A free video resume recording and posting feature will be added to the site next month.
"During my ten years in the executive search business, I have seen thousands of job seekers in need of career coaching, resume writing advice and general employment guidance," said Robert Hawthorne, chief executive officer, Jobjolt Inc., "Jobjolt.com gives these professionals the expert advice they need and offers a voice to those who can't afford executive outplacement services."
"We are a destination site for those who need an insiders' viewpoint as they look to make a career change," said Michael Walter, president, Jobjolt Inc. "Our team has successfully placed thousands of people in careers with leading companies across the country. Along the way our clients have given us valuable inside information we hope to share with our audience."
Original articles appear daily along with podcasts and interviews with hiring authorities from a range of industries.
"Searching for a new job is seldom fun," added Hawthorne. "But with Jobjolt, we will offer entertaining interviews, lively discussions, and hopefully take some of the pain out of the process for people."
ABOUT JOBJOLT INC.
Based in Wilmington, North Carolina, Jobjolt Inc. was created by the founders of Hawthorne Executive Search. The company provides low-cost, employment consulting and resume writing services, and publishes original, lively career-oriented content. For more information visit http://www.Jobjolt.com.
# # #