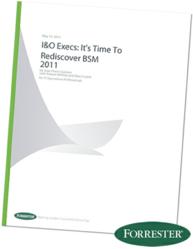 We are very excited to be recognized as part of this new breed of solutions that will help IT operations professionals achieve their BSM goals.
Jersey City, NJ (PRWEB) June 14, 2011
Evolven, the supplier of the breakthrough change and configuration analytics solution for the modern data center and cloud, today announced that the company's configuration management solution was commended in a new Forrester Research report that focused on improving Infrastructure and Operations Change Management and Incident Processes.
"Evolven analyzes change impact through application dependency discovery, detects the rogue ones, and proposes an actionable dashboard for remediation," writes Jean-Pierre Garbani, VP, the primary author of this Forrester Research report.
The report, entitled 'I&O Execs: It's Time to Rediscover BSM', focuses on the new BSM point tools that can contribute to improving I&O's change management and incident processes. The report describes how a new breed of solutions is appearing that will prove useful in helping IT operations professionals achieve their BSM goals, noting that "No one solution encompasses all that BSM embodies today, but several point products exemplify the original BSM concept."
The report reflects on how the original business service management (BSM) concept was founded on the capability to map business services to infrastructure components. However, the foundational technology of application mapping discovery and the configuration management database (CMDB) or configuration management system (CMS) has not yet fulfilled all of its promises, affecting some key management processes such as incident management as well as change and configuration management.
"We are very excited to be recognized as part of this new breed of solutions that will help IT operations professionals achieve their BSM goals," says Sasha Gilenson, CEO of Evolven, "The Evolven Configuration Analytics solution redefines the Change Management space with powerful analytics that delivers actionable information. With Evolven, we enhance the stability and performance IT, providing immediate insight into changes, building a firm bridge between the end user and IT operations."
Evolven was interviewed for this report, where the effectiveness of the Evolven solution was noted as: "Evolven Software for a change control solution discovers all changes in real time."
Jean-Pierre Garbani has several decades of experience as an IT technology designer and marketer, as well as a client of IT technology. He has broad experience in designing advanced technology solutions in industrial and commercial applications and bringing them to market. He has written extensively on technology for several business publications. Jean-Pierre is often a featured speaker in vendor-sponsored events and Webinars.
Forrester Research, Inc. is an independent research company that provides pragmatic and forward-thinking advice to global leaders in business and technology. The Forrester blog is a key source of information for IT and business leaders worldwide.
The report can be downloaded for free at: http://www.evolven.com/download-forrester-report-bsm.html
About Evolven
Evolven delivers innovative configuration management solutions for the modern data center and cloud. Evolven's Configuration Analytics solution enables companies to dramatically increase the stability of their IT environments, lower operating costs, reduce the risk of production outages and cut environment incident investigation time & effort.
Evolven is a privately held, venture backed company headquartered in the U.S., with presence in the US, Europe and the Middle East and a development center in Israel. Evolven's executive team and advisory board include world-renowned experts from the world of IT management and enterprise software. Evolven's investors are leading venture capital firms Pitango Venture Capital (http://www.pitango.com) and Index Ventures (http://www.indexventures.com).
Learn more about Evolven at http://www.evolven.com
# # #