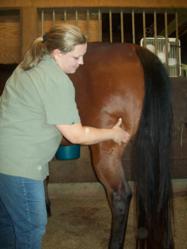 T in front of ouch is Touch
Philadelphia, PA (PRWEB) June 24, 2011
Equine and canine massage therapy is non-invasive and its' methods are used for a variety of reasons, all resulting in improved quality of life and increased longevity. To name a few, muscle integrated therapy can aid in: speeding up recovery time from an injury, hip/elbow dysplasia, arthritis, lameness, colic, behavior/training problems, and much more.
Why is massage therapy for equines and canines on the rise? People are taking on more responsibility when it comes to their pets health and investing more to ensure their well-being. Animals are living longer and in turn, require more specialized care. In addition, the use of equines and canines for show and competition is growing.
Julie Ennis is a graduate of Delaware Valley College with a B.S. in Animal Science / Equine Science Management. As a lifelong equine enthusiast and small animal vet technician, she wanted to continue her education and did so at the school of Equissage in Virginia. Seeing the positive and effective results of massage therapy, she learned that she could pursue a rewarding career doing something she loves - helping animals.
This type of therapy involves locating and treating muscle spasms and trigger points (build up of lactic acid with nerve ending irritation) often caused by tension. Body movement relies greatly on the contraction of muscles and the movement of joints. When muscles are not functioning properly, this causes pain and affects the body's movement. Repeated strains and exertions cause residual muscle tightening which causes the loss of or a decrease in range of motion.
Muscle spasms are often overlooked. They do not show up on x-rays and are cumulative in nature. Unless properly treated, the problem will not resolve on its own. Massage breaks apart these adhesions and restores proper function and circulation to the muscles.
"Equissage has consistently demonstrated that sports massage can make invaluable contributions to a horse's soundness and performance." These same techniques were adapted and applied to the canine. While they are obviously different species, it is factual that a muscle is a muscle, whether it is human, equine, or canine.
Good In Tensions will provide equine and/or canine clients with a proper initial evaluation and a full body sports massage. A maintenance plan and, if needed, follow up exercises will be discussed with the owner(s) to achieve maximum results. They also are available for demonstrations, clinics, and exhibitions.
###