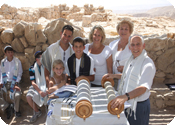 Our goal has always been to provide friendly, flexible service that caters to each customer's needs and exceeds their expectations.
Livingston, NJ (PRWEB) June 14, 2011
Israel Tour Connection (ITC), an award-winning Israel tour operator who offers uniquely programmed Israel tour packages to travelers from around the world, recently launched its new website at Israeltours.com. A specialist in Jewish, Bar/Bat Mitzvah, and Christian travel, ITC launched the new site to provide travelers with an alternative to cookie-cutter tours and the opportunity to have a more meaningful travel experience in Israel.
ITC offers tour packages with unrivaled itineraries including air and land services; access to academic speakers, religious leaders, and political leaders; deluxe accommodations; diverse entertainment options; and memorable dining possibilities. Every detail of ITC's tour itineraries is carefully planned and activities are available to suit the needs of all types of travelers, including families, church groups, synagogue groups, and organizations. In addition, all tour participants receive a complimentary color sourcebook that they can refer to during their travels.
ITC CEO Larry Ritter says, "Our goal has always been to provide friendly, flexible service that caters to each customer's needs and exceeds their expectations. Launching a new, user-friendly site that enables our customers to plan and book their trips to Israel with greater ease was a natural next step."
Israeltours.com provides comprehensive descriptions and itineraries of all tours offered, in addition to downloadable application forms and information about pricing. Customers also have the option to request a free brochure through the site.
Travel packages that ITC offers include Bar/Bat Mitzvah Tours, Jewish Heritage Tours, Family Tours, Christian Tours, Synagogue Tours, VIP Tours, and Private Custom Tours, among others. Factors that set ITC apart from its competitors are its focus on Jewish and Christian travel and the quality of ITC's handpicked tour guides. ITC's tours are designed to be a transformational experience that bring the Bible to life and help deepen one's faith. They are led by English-speaking Israeli guides with years of experience, significant credentials, tremendous knowledge, and a deep passion for their work.
Ritter added, "Not only are our tour guides knowledgeable about famous historical sites, they also keep up with current affairs to find out what's new and essential to see. Our guides connect tour participants to Israel and the Jewish people in a profound way, so they get a lot more out of their trip than what's printed on the itinerary."
About Israel Tour Connection
Founded by Marlene and Larry Ritter, Israel Tour Connection is a wholesale tour operation that has been providing professional services and consultations to individuals and groups for over 25 years. ITC is a family-owned company with offices in New Jersey, Florida, California, and Israel. Products and services that ITC offers include guaranteed departures, educational programming and consultation, reservations for air and lodging, and custom individual and group packages.
###