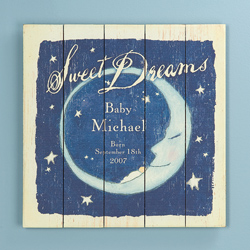 . "We love that we can play a small role in this momentous occasion," says Janie Feldman, "both in our store, and now online."
Margate, NJ (PRWEB) June 15, 2011
Paper Chase, a specialty gift shop located next to Casel's Supermarket, and only seconds from the beach, announces improved and broader access to affordable, unique, and personalized baby gifts with its unveiling of http://www.PaperChaseGifts.com. An 18-year veteran of the Margate area, Paper Chase has consistently offered its loyal customers an array of one-of-a-kind gifts for all occasions. And just as they have historically dedicated a large portion of their store's merchandise and space to personalized and eclectic baby gifts, they will now do the same on their new website for fans both near and far.
Online visitors can visit PaperChaseGifts.com and find well-known brands such as Gund, JellyCat, Melissa and Doug, Kidkraft, North American Bear, Cloud B and Manhattan Toy. From birth announcement photo frames and baby blankets, to stuffed animals and sensory-stimulating toys, PaperChaseGifts.com promises to be a one-stop-shop for individuals seeking creative and thoughtful baby gifts. The best part is: their gift selection doesn't stop there. For toddlers and aspiring young readers who are eager to learn, http://www.PaperChaseGifts.com also offers classic children's books, such as Pat the Bunny, Good Night Moon and The Giving Tree. It even makes newer classics, such as New York Times Best Sellers "It's A Book" by Lane Smith and classic Caldecott Winners "Owen" by Kevin Henkes and "Where the Wild Things Are" by Maurice Sendak available for babies and kids alike.
"The arrival of a new baby into this world is such an important and exciting time – and one that families and friends want to celebrate and enjoy," says Janie Feldman, sole owner and buyer of Paper Chase. "Many of our customers come into our store, eager to get something special that their loved ones will remember and cherish. That's why I devote a great deal of my time hand-picking gifts that are one-of-a-kind -- those that have a functional edge, but that will be keepsakes for years to come. Now, with the launch of http://www.PaperChaseGifts.com, we'll have an opportunity to feature all of these great options on our site! Visitors who can't make it to our store can conveniently and efficiently peruse the site, and see what we have to offer in minutes! They can search for one-of-a-kind specialty baby gifts and stationery, while simultaneously adding beautiful and personalized gift items into their online cart. Visitors can also register for their favorite baby gifts through PaperChaseGifts.com.
At PaperChaseGifts.com, online visitors can quickly decorate their baby's nursery with just the few clicks of a mouse, or order a baby gift for a friend that will be remembered for a lifetime. "We love that we can play a small role in this momentous occasion," says Janie Feldman, "both in our store, and now online."
Visit http://www.PaperChaseGifts.com to learn more.
Contact:
Janie Feldman
Paper Chase
8000 Ventnor Ave.
Margate, NJ 08402
609-822-4583 janie(at)paperchasegifts(dot)com
###