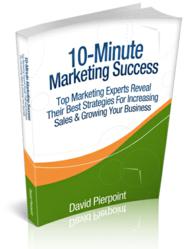 the best marketing strategies are often surprisingly simple to implement
Eugene, OR (PRWEB) June 15, 2011
With contributions by the author of Duct Tape Marketing – John Jantsch, the author of Predictably Irrational – Dan Ariely, Umpqua Bank's CEO – Ray Davis, and more, "10-Minute Marketing Success" reveals the secrets to marketing online, expert-positioning in any industry, turning prospects into paying customers, and other key strategies the world's leading marketing experts are using right now to increase profits.
The "10-Minute Marketing Success" e Book download features:
John Jantsch, author of Duct Tape Marketing and The Referral Engine, reveals how to use his powerful seven-step system to build your "marketing hourglass" and grow your business.
Dan Ariely, author of Predictably Irrational and The Upside of Irrationality, explains how to establish premium value positioning for your products and services, and what to look out for when making a "free" offer to prospects.
Kathleen Gage, the Street Smarts Marketer, shares her strategy for providing "massive value" to her target market, while at the same time increasing sales and positioning herself as an expert.
David Fagan, author of Guerilla Rainmaking and former CEO of Guerilla Marketing, reveals his favorite strategy for creating magnetic marketing and gaining "icon" status in your industry.
Fred Gleeck, an expert info-product marketer and successful author, explains how his "long-view" marketing strategy can provide long-term success, and how to transition prospects from a free-offer to a paid-program.
Andrea Lee, CEO of Thought Partners International and Co-Founder of The Wealthy Thought Leader, shares how becoming a "thought leader" in your market can drastically improve your marketing and build a stronger connection with your customers.
Ray Davis, President & CEO of Umpqua Holdings and author of Leading For Growth, reveals how his "handshake" marketing strategy revolutionized the banking industry's approach, and how anyone can "lead for growth" to improve their business.
David Pierpoint, author of Build A World-Class Practice and The Four Keys To Financial Freedom, reveals a powerful strategy for leveraging promotion partners to increase sales and boost bottom-line profits.
In creating "Ten-Minute Marketing Success," business and marketing consultant, David Pierpoint, asked each marketing expert to provide a focused, ten-minute answer to the question: "What is your favorite marketing strategy or tactic that's working really well for you or your clients right now?"
"I was amazed at how much great advice each of these marketing experts was able to squeeze into just 10 minutes," says Pierpoint, whose book will help those who are just starting a business, operate an existing business, or who want to increase their online business marketing success.
"Many business owners and marketing managers think they have to invest a lot of time or money on their marketing, but the truth is the best marketing strategies are often surprisingly simple to implement," says Pierpoint. "Whether you're a billion-dollar corporation like Umpqua Bank, or you're a New York Times best-selling author like Dan Ariely, the key to success is having a powerful, effective marketing strategy. The good news is that the marketing strategies shared in "Ten-Minute Marketing Success" can work at any level."
To download the "10-Minute Marketing Success" e book, please visit 10MinuteMarketingSuccess.com and type in Passcode: 1050.
###