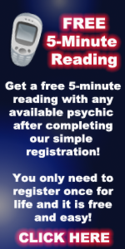 A great way to see if you connect with a psychic without spending a penny!
New York, NY (PRWEB) June 13, 2011
Shay Parker's Best American Psychics is an Internet based psychic directory announcing the launch of new Immediate Psychic Reading Services. With this launch, they are offering all new customers a chance to talk to a psychic advisor without spending any money. By registering as a new user using the coupon link below, customers will receive the first 5 minutes of a telephone, chat or emailed Immediate Psychic Reading at no charge. This promotion does not apply to psychic readings which are privately scheduled with individual psychics. It only applies to those using the new Immediate Reading services.
Best American Psychics is a source for accurate, professional psychics and trustworthy intuitive guidance. Every psychic listed on Best American Psychics (BAP) has undergone two separate test readings for accuracy, legitimacy, professionalism, and more. Before being granted membership, every psychic must complete two separate test readings, each 30 minutes long. One is with a staff tester and the other is with a volunteer client. Best American Psychics is a limited, exclusive directory, granting only the most elite psychics a chance at membership.
Best American Psychics recently implemented a brand new call system, which allows customers to receive psychic readings via phone, chat, and email. The new call system works on a per minute basis, so for those that have a quick question and only need a few minutes or don't have a lot of time to spend scheduling a private reading, this is a perfect solution. Private readings are also available.
Registration is a simple process and once complete, customers automatically receive their first 5 minutes free with any Available Psychic on the Immediate Readings list. This is a three-step process. Customers must first visit http://www.bestamericanpsychics.com, then click on the banner on the right that says "FREE 5-Minute Reading". Once registration is complete, return to Best American Psychics and click on Immediate Readings in the top navigation bar. You will automatically receive your first 5 minutes free with any psychic marked as Available on the Immediate Readings list.
If you wish to access the promotion directly, please click here: https://prodca.click4talk.com/c4a/usignup_page.php?c4a=21905
Afterwards, please navigate to http://www.bestamericanpsychics.com and click on Immediate Readings to select an available psychic.
There is no expiration on this promotion, as Best American Psychics feels it is important to offer new clients a chance to experience their services without spending any money.
###