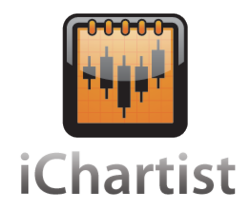 Hong Kong (PRWEB) June 15, 2011
Technical Trading Solutions Ltd. today is pleased to introduce iChartist 1.0, an iPad Stock, Futures, and Forex charting app, for serious traders and investors. Designed to provide the power and flexibility of a high-end desktop application, iChartist allows the trader to actively monitor intraday charts in real-time, scroll back in time, and zoom in or out. The app features a real-time Quote Screen, where the user can monitor all their stocks, futures, and forex pairs of, including the Last Trade Price and the Current Bid and Ask. iChartist offers a wide selection of the most popular Technical Indicators, including MACD, RSI, CCI, ATR, Bollinger Bands, Keltner Channels, Stochastics, Moving Averages and more.
iChartist charts are fully "dynamic." That is, the charts can be scrolled back in time by dragging a finger over the screen, can be zoomed in and out with pinch zoom, and the charts auto-scale while scrolling or zooming. Other available iOS charting apps only provide a static image of a chart that cannot be manipulated at all, seen as an unacceptable deficiency by those who trade for a living. iChartist also offers a rich set of drawing tools, including various types of trend lines and Fibonacci Retracements. Line thickness, color, and style can be set for all drawing tools and preferred default settings can be saved.
iChartist supports real-time streaming, tick by tick data from all major North American stock and futures exchanges, as well as forex for 140 currency pairs. All charts update with each tick, which may be several times per second. Real-time chart updates are available on the iPad for the first time with iChartist.
Pricing and Availability:
iChartist 1.0 for iPad is free and available worldwide through the App Store in the Finance category. Ads can be disabled for a one-time fee of $29.99 (USD). End of Day data is provided free of charge. Real-time data requires a market data feed subscription from a compatible third party, market data provider. Additional Exchange fees may apply depending on the markets the user follows.
About Technical Trading Solutions Ltd:
Located in Hong Kong, Technical Trading Solutions Ltd. is a privately owned software company founded by a group of seasoned wireless software developers and experienced traders. Their core business is to develop financial trading, charting and technical analysis software for wireless devices, intended for serious traders and investors. For more info about Technical Trading Solutions Ltd. and its products please visit: http://www.ichartist.com
###