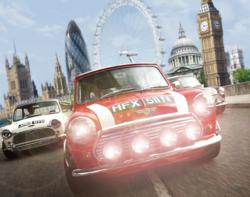 These kinds of tours make even a well-known city like Paris or London, seem like an entirely new territory to explore and that's essentially what makes travel so memorable.
Paris, France (PRWEB) June 15, 2011
With the world's top cities drawing millions of travelers yearly, City Discovery answers the challenge of finding new and out-of-the-ordinary travel experiences for its clients. Where buses, trolley and coaches are the dominant sightseeing vehicles on the road, vintage models cars, luxury sports cars, All-Terrain Vehicles, electric-powered GoCars, motorcycles and new inventions are great for seeing the world's premier tourist destinations in a new light.
City-Discovery.com's Head Product Manager Alessia Bianco explains the interest in these types of experiences. "Both seasoned travelers and first time visitors are always on the look-out for different ways to see a city. We want to make our trip unique, something we can talk about with our friends and family back home. Vintage cars especially have a nostalgic appeal attached to them. These kinds of tours make even a well-known city like Paris or London, seem like an entirely new territory to explore and that's essentially what makes travel so memorable."
Besides giving the typical sightseeing tour a unique spin, City-Discovery's motoring and driving tours are usually private, seating only one to four passengers. An added bonus is they drive at a pace convenient for the traveler, allowing them to take their time or breeze through the highlights in case they are pressed for time.
Mini coopers recall the 1960s and British popular culture. The London in a Mini Cooper tour brings a genuinely British and personalized approach to sightseeing. Only three travelers can fit a Mini driven by a private chauffeur guide who will take them around the famous areas of London from the Royal Palaces to the Tower of London. The chauffeur guide's 60's costumes and background music contribute to the over-all retro theme.
In Bath, the three-wheeled trike combines the safety of a coach and the thrill of a motorcycle. The historic town, its nearby villages and Stonehenge are the perfect backdrop for a trike tour. The trikes come with a safety restraint bar and seatbelts. Passengers are provided with protective gear such as jackets, helmets, gloves and eyewear.
Grand Prix motor racing brought Ferrari and Monaco together on the race track. Travelers can now live the racing dream by riding or driving the Italian sports car on the roads of the French Riviera. Surrounded by coastal and mountain views, the drive is accompanied by a private tour guide who will act as instructor and driver of the two-seater car. Tour durations vary from 15 minutes, 30 minutes and 1 hour.
France's own iconic car, the Citroen 2CV is an economy convertible vehicle produced in 1948. Seating only three passengers and featuring a detachable roof, the 2CV is a cozy touring vehicle, perfect for panoramic views of the Illuminated City. An expert chauffeur guide takes travelers around Paris' world-renowned attractions in the Eternal Magic tour. Travelers can choose the off-beaten track with the Secret Insider Tour that visit the city's secret hidden gems that only Parisians know.
The Trabi Safari blasts to the past on Berlin's last cobblestone streets at 30 kilometers per hour. The Trabi Safari was the penultimate East German family car back in the day and drivers can get a brief introduction of the Trabi's unique revolver-like gearshift. The Classic route passes the major historical and modern political sites while the Wild East route tackles the last vestiges of Marxism and Leninism in Berlin.
Passengers can take a Tuk Tuk tour in Paris, for a cross-cultural experience Thailand's answer to narrow streets and traffic congested areas, Tuk Tuks effortlessly weave in and out of Paris' frequently visited city highlights such as the Champs Elysee, Eiffel Tower, Montmarte, Moulin Rouge and Notre Dame Cathedral. Tuk Tuks can seat three passengers maximum.
Fast, light and efficient, the 750cc Sidecar Motorbike was famously used during the Second World War. These days, the motorbike takes travelers on a breezy road trip through the beautiful Winelands of Cape Town aboard a true classic. The WWII Sidecar Winelands Experience includes riding gear, hotel pick-up, lunch, wine and cheese tasting.
Like the Ferrari, Vespa scooters originated from Italy and remain in production today. Vespas are easy to ride, allowing travelers to just sit, drive and enjoy the quiet and scenic country roads of the Tuscany Region in Florence. The Vespa tour in Florence passes the Chianti vineyards and stops at an old-fashioned winery where travelers would be able to taste wine, olive oil and relish a home-made lunch. Travelers are guaranteed minivan support all through-out the trip.
GoCars, so-called "The Cure of the Common Tour," are upgraded electric-powered golfcarts especially tricked-out for sightseeing. Accommodating up to two people and officially classified as a scooter, GoCars are "Storytelling Cars" equipped with GPS designed to go where tour buses and larger vehicles can't. In Barcelona, the GoCar makes a comprehensive excursion from its Downtown medieval center to the Uptown roads outside the old town.
In Iceland, an ATV ride combines the rugged natural beauty of the Reykjanes peninsula, the milky-blue warm waters of the famous Blue Lagoon and the thrill of driving an all-terrain vehicle. Riding gear from gloves, helmets and overalls are provided for passengers who can ride in twos or go solo. Transfer option to Keflavik Airport after the tour is also available.
Visit City-Discovery.com for more details. For featured travel experiences and photos by customers, read the City Discovery Travel Blog and follow City-Discovery.com on Facebook and Twitter.
###