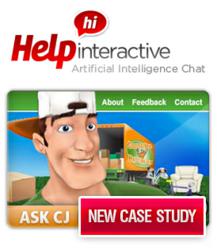 'CJ' the Virtual Chat Expert can calculate estimates, verify coverage, check schedule availability and answer thousands of other customer questions.
Westlake Village, CA (PRWEB) June 15, 2011
The Help Interactive case study explores College Hunks Hauling Junk's struggle with a high rate of inbound support requests and how a custom integration of the Virtual Chat Expert reduced contact center support requests and generated an increase in online bookings. College Hunks Hauling Junk (CHHJ) launched their site with web self service designed to facilitate online booking, yet after months of optimization CHHJ was still experiencing a surprisingly high rate of inbound support requests. Help Interactive's Virtual Chat Expert was the perfect solution to augment the existing self service and provide superior online customer service that assisted the user from interest to conversion.
The sophisticated Artificial Intelligence Chat engine that powers the Virtual Chat Expert allows users to ask their questions using everyday language and receive instant assistance that drives conversions and deflects high-cost calls and emails. Like a live chat agent, Virtual Chat Experts act as a personal site assistant that can co-browse, push pages or links, present rich media and increase brand loyalty. The virtual chat agent's knowledge base is composed of two primary elements, the custom script and the database integration. The custom script was built by Help Interactive's team of writers to provide accurate responses to thousands of possible consumer questions. In order to provide the most up-to-date information, Help Interactive integrated their secure API to CHHJ's databases. This implementation allowed the Virtual Chat Expert to calculate estimates, verify coverage and check schedule availability without the need to ever manually update the agent.
The case study details how CHHJ's Virtual Chat Expert:

Completely integrates into the site experience
Increased online bookings almost 25%
Deflected 28% of inbound customer service calls
To access this free case study, visit: http://www.helpinteractive.com/CJcaseStudy.jsp
To learn more about Help Interactive's Virtual Chat Expert and how they work to increase conversions and deflect inbound support requests, click here.
About Help Interactive
Help Interactive provides compelling online customer service and support solutions that leverage an industry-proven Artificial Intelligence Chat engine to reduce support costs and increase customer satisfaction. Our online customer service solutions work both independently and side-by-side with live sales & support representatives. Headquartered in Westlake Village, CA, Help Interactive is a division of USI Technologies. For more information visit http://www.helpinteractive.com, email info(at)helpinteractive(dot)com or call 1-866-504-9619.
###