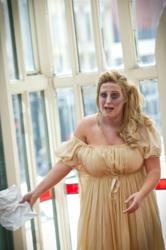 "The enthusiasm, teamwork and commitment shown by the Emo and Grand Opera House staff were amazing, and we are indebted to Arts & Business for their support
(PRWEB UK) 14 June 2011
Leading home heating oil company Emo has had support from the Grand Opera House in helping its staff adjust to an office move.
Emo has been principal sponsor of the iconic Belfast theatre since last November, and decided to involve its partner when it transferred its office from Airport Road West in east Belfast to premises on the same road.
The project that brought about this collaboration was called Creative Spaces and was supported through funding from the Arts & Business Reach investment programme.
Barry Funston, Emo sales and marketing director, said: "Our staff had mostly been working in separate offices, but the move meant going into an open-plan, shared area.
"A switch to a completely different environment can be quite intimidating, and we wanted to make sure that the transition was as comfortable as possible."
So, Creative Spaces was launched and continued for two months....with art facilitators working with staff members to give them confidence to enjoy their new office and learn to deal with challenges.
Workshops were held at the Grand Opera House and involved 32 staff from Emo's Belfast-based administration, sales, IT, HR and marketing departments.
For the staff, the challenge was to develop their own performance-based tours of the theatre for 50 colleagues from regional depots.
Enthusiasm was the keynote as the staff set about their theatre business, with many people only too happy to wear show biz costumes.... from a pantomime dame to sailor outfits.
Along the way, the enthusiasm was matched by the facilitators - Paul McEananey, artistic director for Cahoots NI; internationally-acclaimed singer Briana Corrigan; and storyteller and writer Liz Weir.
The end product was two tours of the theatre, from the stage to the dressing rooms and the Gods – and the verdict was "an outstanding success".
Barry Funston said: "The enthusiasm, teamwork and commitment shown by the Emo and Grand Opera House staff were amazing, and we are indebted to Arts & Business for their support.
"The tours exceeded expectations and were both informative and creative.
All who attended were impressed by their workmates' performances and I have no doubt the project will enhance the capabilities of all who participated."
Michael Ockwell, chief executive of the Grand Opera House, said: "The Emo staff were challenged to deliver a project that took many out of their comfort zone and they should take pride in their achievement.
"I know that the Grand Opera House staff benefited from the project and I look forward to working with our principal sponsor on further projects in the future."
Brona Whitaker, arts manager for Arts & Business Northern Ireland, said: "We are delighted to have supported the relationship between the Grand Opera House and Emo through the Reach Investment Programme.
"Reach exists to encourage and inspire sustainable relationships and to maximise the benefits of business and the arts working together.
"It is especially exciting that the staff of Emo Oil have benefited from this partnership through the development of the Creative Spaces training programme."
###