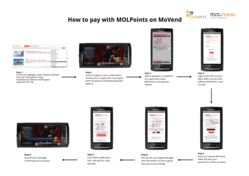 "this arrangement with MOL will open up the market for users, and for developers to finally able to build a profitable business."
Singapore, Singapore (PRWEB) June 16, 2011
Stream Media Pte Ltd (http://www.streammed.com), the company behind MoVend, a unified mobile in-app billing platform, is announcing a partnership with MOL AccessPortal Sdn Bhd (http://www.mol.com) to offer MOLPoints, MOL's virtual currency, as a payment option.
MOL, which acquired Friendster in 2009, is the regional payment partner for Zynga Game Cards and Facebook Credits. MOL handles more than 60 million transactions worth over US$300 million from users annually, making this an enormous opportunity for mobile game developers to reach out to passionate MOL gamers in Asia. MOLPoints, one of the most used prepaid currencies in Asia, can be purchased online from over 500,000 outlets in Asia, thus making it easy for users to pay for mobile games and virtual goods.
"We are excited with the partnership to allow Android users to buy games and apps using MOLPoints", says Chua Zi Yong, CEO of Stream Media. "We are aware of the frustration that most users in Asia face when they want to buy apps but do not have credit cards to do so. And as such, this arrangement with MOL will open up the market for users, and for developers to finally able to build a profitable business."
Starting from today, MOLPoints users will be able to purchase in-game items from MoVend enabled games on their Android phones. Users will be able to download the MoVend-enabled games and apps at MoVend's microsite (http://www.movend.com/mol) for free. Currently there are five games available at launch, and more titles will be released in the coming weeks. One such game is a Android trading card game, Arena 9, by Humble Gaming. For new game releases and updates, please visit the MOL Portal.
"MOL is pleased to be able to have this opportunity to continue to maximize monetization solutions for application and game developers, as well as providing users with payment options that are safe and accessible", says Ganesh Kumar Bangah, CEO of MOL. "We believe that by partnering with Stream Media, we are only serving to expand the channels through which both social gaming and interaction are introduced to the world."
Developers can start accepting MOLPoints payments today by signing up for their accounts at http://www.movend.com. The revenue share arrangement with developers will be 70% of the fulfilled sales revenue. Currently developers can utilize sales methods like try-and-buy, feature upgrades, virtual goods, subscriptions and donations. For more information, developers can contact Stream Media at sales(at)movend(dot)com.
About Stream Media
Stream Media's vision is to connect the world's services and products via mobile. The company specializes in mobile software consultancy, content publishing/distribution and mobile payments. Its clientele include companies such as SingTel, M1, Sony Ericsson, MediaCorp, Sony and Dell.
Stream Media's flagship product, MoVend, is a mobile in-app payment platform designed for Android, BlackBerry, Windows Phone 7 mobile application/game developers to drive in-app revenue. To do this, a single SDK is provided for easy integration with simple API calls. Within 10 minutes, developers can enable various payment options such as carrier billing, PayPal and MOLPoints in more than 40 countries. MoVend also features analytics, product management and DRM tools for developers to easily manage their mobile games and applications and subsequently better monetize their products. For more information, visit http://www.streammed.com.
About MOL AccessPortal Sdn Bhd
MOL AccessPortal Sdn Bhd (MOL) is one of Asia's leading payment service providers. MOL handles over 60 million transactions with an annual payment volume of more than US$300 million. MOL leverages on a network of more than 540,000 physical payment collection points across more than 75 countries. It is also linked online to 88 banks in 9 countries worldwide. MOL was recognized as one of Asia Pacific's fastest growing technology companies in the Deloitte Technology Fast 500 Asia Pacific Awards 2010. MOL is headquartered in Malaysia with offices across Asia Pacific. For more information, visit http://www.mol.com.
Media enquiries may be directed to:
Fan Jing
Mobile: (65) 84889810
Email: media(at)movend(dot)com
Business and developer enquiries may be directed to:
Chua Meng Kiat
Sales Manager
Mobile: (65) 9067 5862
Email: sales(at)movend(dot)com
###