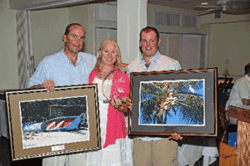 Tarpon fishing in Islamorada just gets better and better...
Islamorada, FL (PRWEB) June 15, 2011
Captain Brian Helms guides angler Rand Holstead to place as the First Runner Up in the 12 pound tippet class in the 37th annual Don Hawley Invitational Tarpon Tournament
Named for the late fly fisherman and conservationist Don Hawley, the tournament benefits the Don Hawley Foundation, which provides financial assistance to professional fishing guides during times of need, supports backcountry fishery conservation programs, and has also awarded scholarships to deserving young students from the Florida Keys.
Twenty-five anglers competed in the 5-day tournament. Awards were given to those who caught and released the most tarpon caught on fly, the angler and guide who caught the most tarpon each day, best new angler and his guide; angler and guide who caught the best fish other than a tarpon; and awards for the top three anglers and their guides for catching the most tarpon in a 12-pound tippet division and a 16-pound tippet division.
Fishing in the 12 pound tippet group, Captain Brian Helms and angler Rand Holstead had a great week, just not great enough. This tournament continues to draw some of the best fly fishing anglers in the country.
"Years ago if you could land two tarpon each day you could win. Now you need to think about five tarpon a day to be grand champion." states Captain Brian Helms.
It was an exciting tournament with an all time tournament high of 218 tarpon caught (four feet or over).
"Tarpon fishing in Islamorda just gets better and better each year and so do the anglers. It was cloudy and windy most of the week. We thought had a great start with five takes, but lost two of the fish with only one tarpon to report the first day, We lost six fish the second day but managed to land two. On Wednesday we headed north to get out of the wind and managed to hook six fish and lost them all as did the entire group; no one brought in a fish. Thursday we managed to land one more tarpon and on Friday we were able to land just one more," explains Captain Helms. "If we had been able to land more fish we hooked, we could have taken the competition, but there is fishing...and then there is tarpon fishing," added Helms.
Grand champion angler for the Hawley was Greg Smith and guide Scott Collins
Champion angler in the 12-pound division was Rick Murphy guided by Steve Ward
Champion angler in the 16-pound division was Kevin Lyden guided by Greg Poland
###