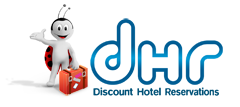 It is never been easier to book a group visit to one of the world's most exciting places. Travellers who are interested in going to Orlando on a group visit.
(PRWEB) June 14, 2011
As customers expected, Dhr.com enhanced its work and promotes yet another exciting place to visit. Orlando, a home of many interesting things, but commonly known as the America's theme – park paradise. This city has the most hotels and is one of the busiest American cities for conferences and conventions. In recent years Orlando accommodations have been completely renovated to ensure a fantastic visit.
For those who search for business friendly hotel for conventions Dhr.com offers discount for Rosen Plaza Hotel who is an award winning meeting, convention and vacation hotel with spectacular standard of excellence. Just a minute from the theme parks, this hotel is next to the Orange County Convention Center which makes it show its impressive meeting capabilities mixed with luxury. Orlando World Center Marriott Resort is also on the discount list for cheap hotels and is ideal for people who just want to relax from the modern world, but also be close to all the fun places Orlando has to offer. This world's biggest golf and spa Marriott resort offers only pleasant family memories and good executed business meetings and events. Besides the large 18-hole golf terrain, some of the remarkable property amenities are the really large lagoon shaped swimming pool with waterfalls, tennis and bowling courts and the big and fully equipped 24 hour fitness center. Dhr.com offers discount for Sheraton Vistana Resort Hotel for those who love the theme parks. Located in the Lake Buena Vista area in Florida, it is close to the Walt Disney World Resort, Magic Kingdom Park, Epcot, Disney's Typhoon Lagoon Water Park and Downtown Disney area. Families won't get enough.
Dhr.com as a leading provider for online hotel accommodation worldwide offers the widest selection for hotel stay with best rates and discounts. Booking for hotels, tours, attractions, sightseeing and transfers can be made 24 hours any day of the week with Dhr.com. The company has dedicated customer service making it reachable trough the tool free numbers for its offices. The friendly Web site interface is easy to work with and the possibilities it offers allows the customers to book more than one destination and up to ten activities in one go.
A representative from Dhr.com claims: ''It is never been easier to book a group visit to one of the world's most exciting places. Travellers who are interested in going to Orlando on a group visit, Dhr.com offers an excellent choice of accommodation to suit all requirements and budgets. Groups will find Orlando hotels on low rates. All the visitors need to do is fill the online Dhr.com form and get an instant reply for the availability.''
Dhr.com with the new discounts and cheap hotel offers will make Orlando become one of customer's favorite places. For more visit http://www.dhr.com/cities/orlando_fl.htm
###