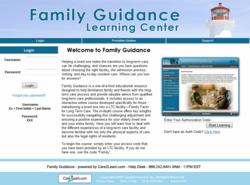 We created the Family Guidance Learning Center as a one-stop resource for friends and family…there's really nothing else like it out there. - Ryan Sparks, Care2Learn General Manager and VP of Enterprise Sales
Tampa, FL (PRWEB) June 14, 2011
Care2Learn, Inc., the leader in online healthcare CE and nursing home staff education, recently launched a comprehensive educational resource to benefit family members of individuals entering into long-term care. The Family Guidance Learning Center (http://family.care2learn.com/) features an interactive online course—Family Facts for Long Term Care—as well as printable literature to help familiarize family members with the physical aspects of care as well as the legal rights of residents.
Family Facts for Long Term Care is an easy-to-access online course that skilled nursing facilities can offer to families of its residents. The course begins with tips for easing the transition of a loved one into LTC living and helping them maintain their dignity and quality of life. Advice includes encouraging communication and making the resident an active part of the transition process. Information provided in the course as well as the printable handouts is written by Care2Learn's highly skilled team of nursing continuing education authors, including nursing home administrators and senior care specialists.
"This resource is something we're really proud of," says Care2Learn General Manager and VP of Enterprise Sales Ryan Sparks. "Placing a loved one into long-term care is one of the toughest challenges a family can face, and the utmost priority is making sure the resident's physical health and emotional well-being are taken into consideration. We created the Family Guidance Learning Center as a one-stop resource for friends and family—a place where they can go to familiarize themselves with the long-term care admission process, find answers to their questions and get valuable advice from LTC professionals. There's really nothing else like it out there."
Through their partnership with Care2Learn, long-term care facilities will be able to provide access to the site and its resources through a private online university.
About Care2Learn
Founded in 2000, Care2Learn provides online continuing education solutions for the post-acute care industry. The Care2Learn course library includes more than 800 accredited course hours delivered to more than 320,000 healthcare professionals in all 50 states. Acquired by RedVector, the premier online CE provider for the design, engineering, and construction industries, Care2Learn continues to grow by offering customized online eLearning universities to companies wishing to offer training and education solutions to their entire staff in a cost-effective, easy-to-use, and readily accessible manner. For further information, call 1-866-703-9418 or visit http://www.Care2Learn.com.
###