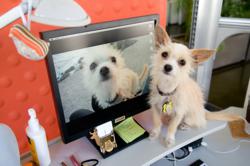 "TYDTWDay offers pet parents an opportunity to show off their dogs to co-workers and give back to the pet community by promoting a great cause—pet adoption."
King, NC (PRWEB) June 14, 2011
Businesses across the United States and abroad are adding kibble, chew toys and Frisbees to their office supply lists in preparation for the 13th annual celebration of Take Your Dog To Work Day (TYDTWDay®) created by Pet Sitters International (PSI).
Village Green, a developer and manager of luxury apartments in Detroit, Mich., will be hosting its 11th TYDTWDay celebration. The company selects a new theme for the event each year and uses the day to raise money for the Animal Placement Bureau (APB) in Lansing, Mich.—this year Village Green is hosting an online auction to support the local animal rescue organization.
"Participating in TYDTWDay is such fun and raises awareness about rescue dogs and the need for adoptions," said Christine Eluskie of Village Green. "Last year we raised more than $5,550 for APB. Employees share our TYDTWDay event information with their friends and family who, in turn, share it with others. We've found that participating in TYDTWDay touches so many people."
TYDTWDay encourages businesses to experience the joy of pets in the workplace for just one day to celebrate the great companions dogs make and to promote the need for pet adoption.
Since TYDTWDay's inaugural celebration in 1999, America's love affair with pets has grown to an all-time high, and there are more than 78 million dogs in 46.3 million households across the country. During this same time, intake at animal shelters has also grown at a startling rate—with an estimated six to eight million cats and dogs entering shelters in the United States each year. The Humane Society of the United States (HSUS) estimates that nearly half of these pets are ultimately euthanized.
This year, PSI has partnered with Veterinary Pet Insurance (VPI) to promote TYDTWDay and the benefits of pet ownership.
"VPI proudly sponsors PSI's 2011 TYDTWDay campaign," said Bobbie Cooper, VPI director of partnership development. "As the nation's oldest and largest pet health insurer, VPI understands the human-animal bond and the loving companionship pets provide, whether at home or in the workplace."
Also partnering to support this year's campaign is Adopt-A-Pet.com, Dog Fancy magazine, the Association of Pet Dog Trainers and pet expert Arden Moore's Fourleggedlife.com.
"From reducing stress levels to helping increase our physical activity, pets have been shown to enrich our lives in so many ways," Patti Moran, PSI president said. "TYDTWDay offers pet parents an opportunity to show off their dogs to co-workers and give back to the pet community by promoting a great cause—pet adoption."
Participating businesses report that the opportunity to give back to the pet community and the fun employees have participating are key reasons for participation. Heidi Anderson-Rhodes, senior director of facility management solutions at UGL Unicco in Arlington, Va., organized her office's 2010 event.
"Treats, toys and water bowls were shared by all," Rhodes said. "It created one of the best dog days of summer! The event was a great success and we hope that this is the start of a wonderful annual work tradition!"
Pet Sitters International and its 2011 campaign partners encourage businesses, shelters and pet lovers interested in celebrating their dogs and promoting pet adoption to visit http://www.takeyourdog.com to register support, download a free 2011 TYDTWDay Action Pack and enter the official 2011 TYDTWDay Photo Contest. Site visitors can also search for adoptable pets in their communities. To learn more about event creator PSI, visit http://www.petsit.com.
###