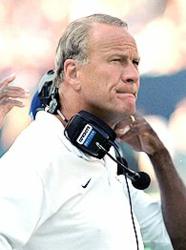 Atlanta, GA (PRWEB) June 14, 2011
Barry Switzer, legendary former head coach of the University of Oklahoma college football team and the Dallas Cowboys—the only coach to ever to win three national college football championships and a Super Bowl—has joined forces with S2Verify, LLC, one of the fastest growing companies in the employment screening market, to launch a background screening website solely dedicated to youth sports organizations. The new website is accessible today at http://www.coachswitzer.com.
"Team sports have the power to positively shape our children by teaching them to collaborate with and trust other people—people of all ages, races and cultural backgrounds—in order to accomplish a bigger goal," said Switzer. "Our goal with this website is to help organizations create a safe, secure sports environment where kids and parents can play, learn and know they're placing their trust in the right people."
According to industry standards, all organizations that serve vulnerable populations such as children should at least perform a nationwide criminal background check on all employees and volunteers, not just a sex offender search. Just screening for sex offenders is not enough as a large majority of these crimes are plead down and these individuals are not in the Sex Offender Registry. Also, not screening the people who work with children is essentially an open invitation for sex offenders to join an organization. It also increases an organization's liability for negligence lawsuits, which can easily exceed $1 million, should an unfortunate incident occur.
"At S2Verify, we are the experts at using data and sophisticated analytics to significantly raise the level of security and safety for these organizations and we're proud to team up with Barry Switzer to offer this vital service to youth sports, and at a discounted price that fits every budget." said Bill Whitford, S2Verify founder and chief executive officer. "This website is so incredibly simple, affordable and effective, there's absolutely no excuse why an organization shouldn't be performing background screening."
The S2Verify youth sports website offers fast, powerful background screening searches to help identify people with a criminal history that might jeopardize the welfare of children or the larger organization. Based on an organization's unique needs, needs, users can pick and choose from individual search options, or they can access strategic screening packages. To accommodate the budgets of youth sports leagues, all costs on the new website are reduced from normal retail prices, and additional discounts are available based on annual screening volume.
Organizations can sign up for this service online or learn more about it by visiting http://www.coachswitzer.com, or by contacting S2Verify at mail(at)s2verify(dot)com or toll free at 1.877.427.8258.
About S2VERIFY:
S2Verify is a leading process innovator in the application of integrated hiring solutions and employment screening technologies to the needs of business and individuals for employee and tenant information that is comprehensive in scope, delivered quickly to key managers, and easy to read, understand and use by authorized personnel. With headquarters in Atlanta and offices in Chicago and Miami, the privately-held company specializes in providing a customizable yet fully integrated, best-in-class set of applicant tracking, employment and background screening services that address business and consumer needs either poorly met or not met at all by leading, nationally-branded providers of mass-market background screening solutions.
###