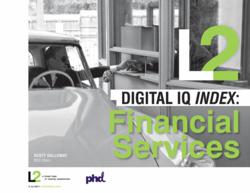 Our thesis is that digital competence is inextricably linked to shareholder value in the financial services industry.
New York, NY (PRWEB) June 13, 2011
American Express and Bank of America are "Geniuses" when it comes to using digital applications to strengthen their brands, according to the newest Digital IQ Index®, which assesses the digital competence of 27 retail banks and credit card issuers. The Digital IQ Index® was developed by NYU Stern Professor Scott Galloway and a team of experts from L2 in partnership with leading media agency PHD Network to measure and rank a brand's digital footprint across four dimensions: effectiveness of a brand's site, digital marketing, social media and mobile.
"Our thesis is that digital competence is inextricably linked to shareholder value in the financial services industry," said Professor Galloway. "Innovation in digital and mobile is the new battlefield where market share will be won or lost. The primary levers in the financial services industry over the past 20 years have been massive broadcast media spend and a land grab for retail bank real estate. However, a focus on cost-cutting driven by the financial crisis, coupled with an increasingly digital consumer, is reshaping the landscape."
Andrew McLean, CEO PHD added "These companies have invested more heavily in resources to build digital consumer platforms and this has led to an edge versus other categories. However, they have yet to master elements of social and dynamic online marketing".
To download the complete rankings, go to: http://bit.ly/L2FSIQ
Each brand is assigned a Digital IQ and a corresponding term of Genius, Gifted, Average, Challenged or Feeble. The top 10 brands were:
1 American Express (credit cards) Genius
2 Bank of America (retail bank) Genius
3 Bank of America Cards (credit cards) Gifted
4 Chase Cards (credit cards) Gifted
5 Citibank (retail bank) Gifted
5 Capital One Cards (credit cards) Gifted
7 Chase (retail bank) Gifted
7 Discover (credit cards) Gifted
7 ING Direct (retail bank) Gifted
10 Wells Fargo (retail bank) Gifted
Key findings of the Digital IQ Index® include:

The industry's strong scores are largely the result of substantial investments in mobile innovation; the companies' average mobile scores were two to three times higher than in most consumer industries. 82 percent of the brands included in the study had a mobile presence.
The biggest missed opportunity in the industry is the incorporation of social sharing tools; fewer than one third of financial services websites offer any form of social sharing around financial products or site content, and only 22 percent incorporate Facebook open graph technology.
Financial services Digital IQ scores outpace the scores of the beauty industry (37 percent were Genius or Gifted) and the luxury industry (36 percent were Genius or Gifted)
Of the 68 percent of brands using Twitter, two thirds provide real-time customer service through the micro-blogging platform.
Only 28 percent of financial services companies in the Index maintain an overall brand Facebook page, instead opting to build pages around single marketing programs and sponsorships. As a result, the financial services industry trails when looking at number of "likes" across industries, averaging just over 92K likes per brand page vs. 553K and 374K for the luxury and beauty industries, respectively.
About L2
L2 is a think tank for digital innovation. L2 helps brands navigate the changing marketing landscape through events, research and advisory services. The capstone research offering, the Digital IQ Index®, was created and developed by NYU Stern Professor Scott Galloway and measures and ranks a firm's digital competence on metrics including search engine optimization, brand translation, ability to leverage technology and use of social media. L2 has measured the Digital IQ of global luxury brands, prestige brands, automobile brands, pharmaceuticals and the retail sector, among others. http://www.l2thinktank.com
About PHD
Founded in London in 1990 as the first planning-led media agency, PHD is a proven innovator in communications planning and buying across broadcast, print, digital, mobile, social and emerging media. PHD is a global network with over 2,500 employees in more than 60 countries and is built on a culture of thought leadership, creativity and innovation.
In 2010, PHD won nine 'Media Agency of the Year' awards following numerous high profile new business wins across markets including UK, USA, Canada, China, New Zealand, Australia and Asia Pacific. It continues to deliver on its philosophy of "Finding a Better Way" for its clients.
The PHD network is part of the Omnicom Media Group (http://www.omnicommediagroup.com), a division of Omnicom Group Inc.
(http://www.phdnetwork.com)
###