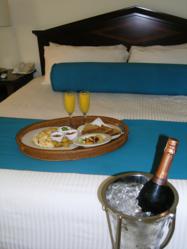 It is far more than a convenience; it's a welcome luxury
Eagle Beach (PRWEB) June 14, 2011
The boutique resort offers in-room dining for breakfast, lunch and dinner under the guidance of the resort's executive chef - George Hoek. Savor smoked salmon on a toasted bagel or a spinach herb omelet on the patio overlooking the lush tropical gardens called home by the exotic colorful birds. At night, enjoy the beauty of the sunset for an intimate dinner for two on the private balcony or patio.
"In-room dining adds the extra indulgence to make the Caribbean vacation of our guests even more relaxing. It is far more than a convenience; it's a welcome luxury" says Edgar Roelofs the resort's general manager. "The newly added service fits perfectly in our strategy to offer our guests a 4-star boutique resort experience," Edgar adds.
Located on Aruba's widest beach, Manchebo Beach Resort & Spa has always been a favorite hideaway for those looking for a peaceful beach vacation. All 71 fully- appointed Deluxe Garden View and Deluxe Ocean View Rooms are cool and comfortable with plush bedding, soft linens, sleek modern bath with a rain shower and a host of amenities. Tasteful décor combines rich dark woods with ivory and coral accents.
The intimate resort features three a-la-carte restaurants as well as an optional premium all-inclusive program. Other amenities for guests to enjoy are Spa del Sol, a full-service Caribbean-Balinese spa on the beach, yoga classes, swimming pool, fitness room and free Wi-Fi and internet terminals. Located on Eagle Beach the resort is just 5 minutes away from Palm Beach and Aruba's capital Oranjestad.
For more information about Manchebo Beach Resort & Spa visit the resort's website or call toll-free 1-888-673-8036.
###