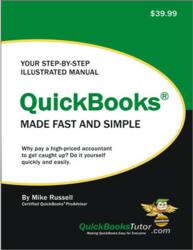 This book cuts hours off the learning curve and makes QuickBooks much easier to use.
Austin, TX (PRWEB) June 15, 2011
QuickBooks Tutor today announced the release of its new book, QuickBooks Made Fast and Simple. The book, which poses the question, "Why pay a high-priced accountant to get caught up when you can do it yourself quickly and easy?" is available on Amazon.com in paperback and as an instant e-book download on the QuickBooks Tutor website.
Written by Certified QuickBooks ProAdvisor Mike Russell, the book is radically different from other how-to books and tutorials on the popular accounting software because it helps users learn the Cash Basis method of accounting.
"This is significant," says Russell, "because it streamlines the learning process for small business people who don't need to use more formal Accrual Basis accounting. It cuts hours off the learning curve and makes QuickBooks much easier to use."
According to Russell, "It's also the only book in the world that helps QuickBooks users catch up with their bookkeeping after they have fallen behind while using the popular QuickBooks accounting software."
Most small businesses already use the Cash Basis method for their bookkeeping anyway, explains Russell, noting that it's also how most file their taxes. This makes the approach particularly useful for businesses that are three or more months behind in their bookkeeping and want to use the fastest possible method to get caught up.
QuickBooks Made Fast and Simple provides easy, step-by-step instructions and screenshot illustrations that walk users through the entire process. Users follow the pictures and simple guidance screen by screen. By completing practice sets for a fictional business, users quickly learn how to adapt the approach to their own books.
Russell estimates the average user can complete the 238-page book in four hours or less—a significantly faster path to proficiency than other QuickBooks tutorials or manuals.
Russell says the book is suitable for learning virtually any recent Pro, Premiere or Enterprise version of QuickBooks. This book is not suitable for the online or simple start versions of QuickBooks.
According to small business owner Nick Johnson of Innovative Systems, the book delivers on the promise of its title. "QuickBooks Made Fast and Simple is so easy to use that I now understand how my bookkeeping work comes together. This book just saved me a lot of money in bookkeeping fees, and I'm sure it will for others," he said.
Russell is so confident that the book is exactly what small businesses need that he offers a satisfaction guarantee if readers aren't completely happy with it. "You'll either love this book, or I'll give you your money back," he said.
For more information about QuickBooks Made Fast and Simple or QuickBooks Tutor, or to purchase the e-book, visit the company's website at http://www.quickbookstutor.com. Or, to order a hard copy version, search for the title on Amazon.com.
Austin, Texas-based QuickBooks Tutor provides hands-on QuickBooks classes, bookkeeping, tax preparation and QuickBooks tutoring services to help small businesses. As an Intuit site licensed teacher and Certified QuickBooks ProAdvisor, Mike Russell is one of the most experienced QuickBooks users in the country and has taught hundreds of small business owners and employees in QuickBooks classes since 2004. His new book is based on what he learned from his students as a classroom instructor.
###