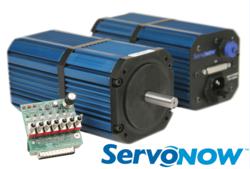 "The operator doesn't have to be an engineer who speaks "servo language" to set-up and operate the unit," states Todd Lucich, VP of Sales at Bison Gear. "Within minutes the unit is up and running."
St. Charles, IL (PRWEB) June 13, 2011
Bison's new, integrated brushless ServoNOW™ servo system for single axis applications was designed to meet basic motion needs by limiting programmability and using simple positioning and speed control applications. This new, state-of-the-art design reduces the amount of time and money spent on overall set-up and installation.
All input and output functions of the ServoNOW™ are programmed into the set-up feature through a simplified indexing type command structure making it able to interface to nearly any logic input and output. Analog inputs can be selected and set-up to control the position or velocity of the system. All set-up and installation can be accomplished with any standard PC with a built-in USB port. Free, downloadable host software called QuickLaunch is available with the package and loads on any Windows PC.
The ServoNOW™ incorporates an inclusive closed loop brushless servo motor with built-in driver, controller, magnetic encoder and 110/230VAC universal power supply all in one complete, compact package. Four programmable digital inputs and outputs, analog I/O (0 to 10VDC or 4 to 20MA, 12 bit) and position resolution of 4096 counts per revolution is included.
There are 5 standard, NEMA 34C face mount models available with varying performance variations from 0-6900 rpm and 0-310 oz-in torque. Models can be customized to meet application specific requirements.
ServoNOW™ is ideal for customers who are users of:
•Speed controlled motors
•Motors using start/stop relays with brakes
•Pneumatic cylinders with control position
•Linear slides and ball screws
•Clutch brakes
•PLC's and simple switch logic or relay logic equipment
There are a multitude of industries which would benefit from the integrated ServoNOW™ servo system. Some of those industries include:
■Packaging Equipment
■Factory Automation
■Laboratory Automation
■Indexing Applications
■Peristaltic & Metering Pumps
■Conveyors
■Winders
■Valves
■Gates
■Dispensers
■Specialty Machinery
■Rotating Signs
The new ServoNOW™ products are part of Bison's In-Stock, Instant-Ship (ISIS) program that supports Bison's distribution partners and web customers offering same day shipment for orders received before noon (Central Time).
About Bison Gear & Engineering Corp.
For over 50 years, Bison Gear & Engineering Corp. has designed and manufactured fractional horsepower electric motors, gearmotors and gear reducers used in industrial and commercial OEM applications worldwide. Bison's strong engineering tradition, based on Robusticity™ principles, offers products with up to twice as much torque in the same package size as competitors. Bison's St. Charles, Illinois integrated production facility manufactures gearmotors and reducers in parallel shaft and right angle configurations, as well as AC, DC and brushless DC electric motors, for applications where dependability and long lifetimes are important.
# # #