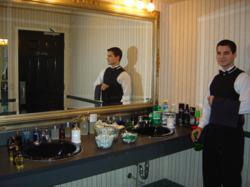 Company motto "We'll turn the water on for you"
(PRWEB) June 16, 2011
When considering to add kick it up a notch service to a Venue location for no cost call first pick valet.
Attended Restrooms add pampered service as another layer of perceived value to the customer.
First Pick Restroom Valet can serve night clubs, adult night clubs, restaurants, and top end steak houses anywhere in the nation.
To do this, add a First Pick Valet Company member to the staff who will always say "hello" with a smile as a representation of the Venue. In the restroom, a live valet person will offer a clean, welcoming environment turn the water on, apply soap to the guests hands when approaching the sink, and then offer top of the line toiletries and fragrances.
First Pick Restroom Valet is the restroom valet service.
It all begins with a response and ask to talk to Jarman the company mascot. The business Office phone/fax number is 877-945-7425.
###