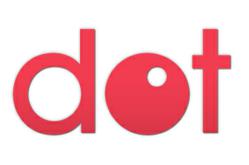 "The demand for Dot has been overwhelming to say the least," said Jeff Glasse, Founder and CEO of Kogeto.
New York (PRWEB) June 14, 2011
In a record 25 days, Kogeto today announces that Dot™, the world's smallest 360-degree panoramic video camera accessory for the iPhone 4, has more than quadrupled its initial Kickstarter fundraising goal reaching $86,901.
Dot lets your iPhone capture immersive, fully navigable panoramic video in real-time - and share with friends on your phone, as well as on social networks like Facebook and Twitter; or even streamed online using Kogeto's SaaS-based web platform.
Dot is manufactured in the U.S. and is available for presale today via Kickstarter, for $99
Weighing just 15-grams, Kogeto's Dot is an accessory for the iPhone's camera lens, and requires no additional battery power or memory beyond stardard camera use. Dot is made out of durable and lightweight polycarbonate plastic and has a slim profile, allowing the custom optic to automatically align with the built-in iPhone 4 camera without adding significant bulk to the iPhone's sleek design.
"The demand for Dot has been overwhelming to say the least," said Jeff Glasse, Founder and CEO of Kogeto. "Consumers want to capture the world around them in this exciting new immersive format, but they also want to share their experiences with friends and family as they happen. Dot allows you to do both, while you enjoy the party at the same time."
Share the World around You
Dot comes paired with a companion iPhone application, Looker, which integrates directly with Kogeto's SaaS web platform. Together with Kogeto.com, Looker provides the Dot user with a complete ecosystem to shoot, browse and share videos.
Also, because all iPhone 4s come equipped with an internal compass and GPS, Looker can intuitively learn where in the world a video is being uploaded from and the position of that iPhone at the time of capture. When two or more Dots are in one location, Looker can link videos from those Dot users together, allowing a viewer to jump from one perspective to another at the same event.
Looker will be offered free-of-charge on Apple's App Store; some advanced features will be provided on a subscription basis, at a price yet to be determined.
About KOGETO
Founded in 2010, Kogeto, LLC designs and manufactures Lucy and Dot, the world's most advanced panoramic video cameras. Kogeto's Lucy technology was developed with the participation of the Bill and Melinda Gates Foundation and is currently in use in hundreds of schools around the country as part of Teachscape Reflect. Dot represents the next step in Kogeto's mission to put panoramic video technology in the hands of as many people as possible. Kogeto's products are manufactured in the United States. Additional information can be found at, http://www.kogeto.com
###