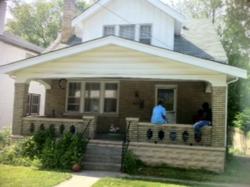 "This is Texaco's mess. We are hopeful that they will step up and do the right thing."
Newport, KY USA (PRWEB) June 16, 2011
Mahanarre Harris, her husband and their five children thought they had achieved the American dream- owning their own home. But that dream soon turned into a nightmare. According to Court documents in Campbell County, Kentucky Circuit Court, Case No.09-CR-1175, they soon noticed strange odors throughout the home. Over the next four years they suffered a variety of maladies, including shortness of breath, headaches, dizziness, nausea, and asthma-like symptoms. In 2008 a worker knocked on her door and told her that they were cleaning up underground gasoline contamination from an old service station next door, and they needed to access her property. He told her it had migrated across the property line. Harris walked over to the area where the crew was excavating and noticed a familiar odor.
According to Paul Dickman, her attorney, who is also a geologist and a former environmental consultant, "Gasoline, after migrating through soil and groundwater for many years, has a very peculiar smell. It doesn't really smell like gasoline, but it has a very distinct odor." Harris claims that she immediately contacted the Commonwealth of Kentucky Division of Waste Management. They allegedly conducted air tests in the Harris home, and confirmed the presence of gasoline components, including benzene, toluene, ethyl benzene and xylene. Harris claims that a second round of sampling confirmed the presence of these organic solvents.
"Chronic exposure to these chemicals has been documented to cause serious harms to humans, and it our position that it has injured the Harris family. Benzene in particular is a nasty chemical," added Dickman. Benzene is a "known human carcinogen" according to the International Agency for Research on Cancer, the Centers for Disease Control, the National Institute of Health, and the Environmental Protection Agency. "Long term chronic exposure to all of these chemicals is very dangerous according to all of the literature".
The contamination is alleged to have originated from underground storage tanks on the former Texaco Station next to the Harris property.
"These types of environmental problems are common at old gas stations. Unless these underground tanks are equipped with containment systems, corrosion protection, and overfill prevention, gasoline is released into the soil and groundwater almost on a daily basis." added Dickman.
Dickman and his law partner Nicholas Summe filed suit against the current owners of the property in 2009. Following the completion of follow up investigations it was learned that Texaco had operated a station on the property from as early as 1930 and into the 1970's. This prompted the addition of the oil company to the lawsuit. "It is our position that Texaco was aware of the dangers posed by these tanks. and that they didn't use any of these types of preventative measures." said Dickman.
As a result, the soil and groundwater at the station, and at the Harris home, became saturated with gasoline, according to Court documents. In 2008 over 800 tons of gasoline contaminated soil, and unknown quantities of contaminated groundwater were allegedly removed from the properties. Harris claims that it was this removal operation that caught her attention. Court documents allege that soil and groundwater beneath the Harris home remains contaminated.
To make matter worse, a sewer line from the Harris home dissected the contaminated area. According to sworn testimony in the case by representatives of the Commonwealth of Kentucky this sewer line provided a preferential pathway for gasoline vapors, including benzene, to enter the Harris home.
"It is our claim that this sewer line acted as a conduit for the migration of these organic chemicals into the Harris home. These vapors entered their home daily through this sewer line, as well as from surrounding soils. The deposition testimony to date confirms this" claimed Dickman.
The home, for which Harris paid $103,000.00 in 2004, is alleged to have been appraised at $0.00 by a local real estate appraiser. "The whole property is contaminated with gasoline. The bank doesn't even want it at this point." Dickman further claimed.
"This is a tragedy for the Harris family. Not only is their home now worthless, their entire family has been exposed to these carcinogens, and they have suffered ongoing injuries as a result. This is Texaco's mess. We are hopeful that they will step up and do the right thing."
###