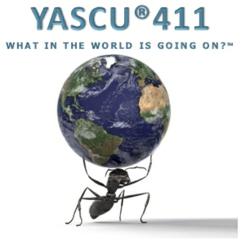 The idea behind the service is to bring the web to the user, instead of requiring users to go to the web.
Boca Raton, FL (PRWEB) June 15, 2011
Shade Software Solutions today announced the pre-release of their news and information service Yascu 411. The company developed and has been using this service internally for quite some time, and is now making it available to the public. Yascu® 411 improves awareness of current events in various parts of the world by allowing users to stay informed, connected, and empowered by accessing news and important events as they unfold from sources such as CNN, BBC, USA Today, Time Magazine, CNet, ESPN, etc. Enjoy breaking news, business, politics, tech, weather, sports, entertainment, and more. Designed to require zero installation, zero configuration, and zero effort, this unique 100kb application gives meaning to its tag line "Small Size = Superb Strength.™"
The Yascu 411 service delivers screenshots of different news and information websites, allowing the content to be navigated as a slideshow resulting in zero learning curve. Simply download and press the letter "S" on the keyboard to start viewing the slides, which transitions every 15 seconds. The content is updated throughout the day so staying updated with the headlines only requires a glance. The idea behind the service is to "bring the web to the user, instead of requiring users to go to the web", says a company representative, who went on to say that "The internet is a wonderful vehicle for information but it is becoming increasingly overloaded, and users are overwhelmed because they just don't have the time to be consumed with clicking through search results, logging onto websites, reading emails, or checking RSS news feeds just to stay informed."
For a limited time, the company is offering a promotional discount for pre-orders of a full year subscription to the premium service when officially launched. One lucky early paid subscriber will receive a free ASUS® Eee Slate EP121 - the new Eee Slate tablet PC with Windows® 7 and accessories.
While the company has a Facebook page, in November 2010 its publishing rights was disabled by Facebook's algorithm based on the high early growth rate of over 10,000 fans in 3 months. Despite this setback, fans can continue 'liking' the Facebook product page until the company is able to get the matter resolved with Facebook.
The 100kb Yascu product line is a spin off from the company's flagship product Shade DX, and was copyrighted and trademarked in 2009, and is now estimated to have reached 170 countries worldwide. With an underlying patent pending and the focus of a recent VeriSign® case study, the company is building on this momentum to further promote and fine tune the 411 service based on user feedback in the upcoming months.
The Yascu 411 information service is a free add-on to Yascu®, a 100 kilobyte zero installation screen capture and content presentation tool, and is powered by Yascu Mirror; a unique application that allows users to reflect and compare screenshots and image content side-by-side on the Windows ® desktop, thereby increasing productivity by multi-tasking, while facilitating training and demonstrations without the hassle of always constructing PowerPoint presentations.
The Shade, Shade DX, and Yascu name and logos are trademarks or registered trademarks of Shade Software Solutions LLC. All product and company names herein may be trademarks of their registered owners.
###