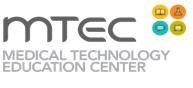 Medical Technology Education Center (MTEC) has a well-known reputation within the industry for placing work-ready graduates.
Fairlawn, OH (PRWEB) June 14, 2011
MTEC, a leading provider of online healthcare training, has received nominations in two categories for the 2011 AHDI Integrity Awards. The Innovation Through Technology Award serves to recognize a company or individual who exhibits outstanding knowledge of technology and/or innovation related to the profession of medical transcription. MTEC's cutting-edge training platform, Fuzion, incorporates industry-wide speech recognition technology with a proprietary transcription editor to provide students with a training environment that closely models the industry they will work in.
Vallie Piloian, CMT, AHDI-F, MTEC's director of business development and innovation, states, "MTEC has a well-known reputation within the industry for placing work-ready graduates. Moving into 2011, MTEC has been completely focused on the new generation of healthcare documentation workers…focused on technology enhancements that will give our students a leading edge above others entering this new marketplace."
Diana Gish, CMT, AHDI-F, has been nominated to receive AHDI's 2011 Educator of the Year Award. This award recognizes an individual who has demonstrated excellence in the area of medical transcription education, either as an educational program instructor/coordinator, as a contributor to AHDI educational programs/initiatives, or as a trainer/instructor of online or on-site continuing education programs for AHDI members and/or the industry.
Diana has shared her passion for medical transcription with more than 250 students over the course of her 6-year tenure on staff at MTEC. Fellow faculty member Harriet Stewart, CMT, AHDI-F, who also serves on the AHDI board of directors, describes Diana as "one of the ingredients in MTEC's secret sauce."
Winners of the 2011 AHDI Integrity Awards will be announced in Phoenix, AZ, on the final day of the AHDI Annual Convention and Expo on Sunday, August 21st, during the AHDI Integrity Awards Lunch.
About MTEC
The Medical Technology Education Center (MTEC) was developed and founded in 1996 and is the first school to be approved by the Approval Committee for Certificate Program (ACCP), a joint committee established by AHDI and AHIMA for certifying and approving medical transcription education programs. MTEC's academic purpose is to prepare students for productive careers in the dynamic, ever-changing, and challenging healthcare documentation profession. MTEC is a wholly-owned subsidiary of Webmedx.
MTEC is approved by the State of Ohio Board of Career Colleges and Schools, Certificate #08-11-1886T
###