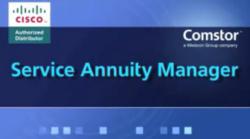 The platform has dramatically changed our approach to service quoting and ordering, allowing us to drive revenues by uncovering and presenting a range of opportunities – for SMARTnet renewals – to our channel partners.
Carlsbad, CA (PRWEB) June 14, 2011
MaintenanceNet™, Inc., the leading provider of extended warranty and maintenance contract management services, today announced that Comstor – the Cisco-dedicated business unit of Westcon Group – is leveraging MaintenanceNet Service360 to move service sales transactions to the cloud. MaintenanceNet Service360 is a Web-based technology platform that expedites service quoting and ordering and automates service renewals.
Using MaintenanceNet as a foundation, Comstor has created its Service Annuity Manager (SAM) platform, which extends to both internal and external sales teams -- including more than 150 channel partners. In the last quarter of 2010, the platform helped generate an additional $10 million in Comstor revenue by delivering automated quotes to channel partners.
Based on MaintenanceNet Service360, Comstor Service Annuity Manager tracks expiring service contracts and generates pre-qualified Cisco SMARTnet service quotes to automate renewals. Comstor SAM also gives resellers visibility into relationships across contracts, assets, partners and customers for improved communication and management.
"With Comstor SAM, we've given our channel partners and sales agents a way to complete service quotes in just a few quick minutes," said Christopher Fender, Director of Sales, Westcon Group. "The platform has dramatically changed our approach to service quoting and ordering, allowing us to drive revenues by uncovering and presenting a broad-based range of opportunities – for SMARTnet renewals and for technology refresh sales – to our channel partners."
The platform integrates seamlessly with Comstor's order processing system, as well as Cisco's ordering system, to streamline sales and reduce transaction times. In addition, a built-in quote validation tool incorporates up-to-the-minute manufacturer pricing -- along with profit margins and discount models -- to further ensure quoting accuracy.
According to Scott Herron, CEO of MaintenanceNet, Comstor's strong focus on empowering channel partners will bring the distributor continued success with SMARTnet service sales.
"With Comstor's vast portfolio of Cisco offerings, the process of identifying and selling services to go along with those products can be extremely complex. By providing next-generation service contract management technology to its resellers, Comstor has greatly simplified the process, leading to improved time-to-close ratios and faster sales cycles," said Herron.
Follow MaintenanceNet on LinkedIn at http://www.linkedin.com/company/maintenancenet and on Twitter at http://www.twitter.com/maintenancenet.
About MaintenanceNet
MaintenanceNet empowers the world's leading technology manufacturers and their channel partners to expand the scope and success of their service sales initiatives. The company has delivered billions of dollars in service revenues to the global technology industry, while also improving overall customer satisfaction and retention for the businesses it serves. The key to MaintenanceNet's success is its proficiency in turning incomplete or inaccurate customer data into actionable business intelligence that drives revenue and profits for technology manufacturers. MaintenanceNet's Service360 technology platform expedites and automates sales processes, and provides a channel-friendly approach to service quoting, ordering and renewing. For more information, visit http://www.maintenancenet.com or call 866-699-7212.
MaintenanceNet and Service360 are registered trademarks of MaintenanceNet Incorporated.
###