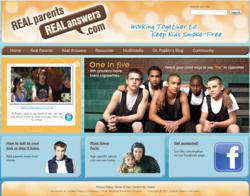 We are striving to work together with parents and caregivers to keep kids smoke-free.
Greensboro, NC (PRWEB) June 15, 2011
It is never easy to talk to children about difficult topics, and often the intimidation factor alone can cause parents to want to avoid the coversation. Fortunately, for more than a decade, RealParentsRealAnswers.com has been a constant companion in reassuring parents about this critical dialogue. Now, the site offers even greater resources to get the talk started.
RealParentsRealAnswers.com, a youth smoking website featuring helpful tips and advice from parenting expert Dr. Michael Popkin, has just been relaunched with the latest in technology, social media connections, and communication tools to make starting the no-smoking conversation easier than ever.
"Through 'Real Parents. Real Answers.' we are striving to work together with parents and caregivers to keep kids smoke-free," says Dr. Michael Popkin, spokesperson for "Real Parents. Real Answers .," founder of Active Parenting Publishers and author of winning video-based parenting education programs. "The redesigned site provides a modern, user-friendly, mobile-friendly resource to provide materials and insight to parents who are concerned with the prevalence of smoking among our youth."
From the redesigned RealParentsRealAnswers.com main page, visitors can easily view the recently developed man-on-the-street video Getting Real About Smoking. In the video Dr. Popkin approaches youth on the streets of Atlanta and asks them for the truth about why kids choose to smoke, or not to smoke, and what parents might be able to do to help their kids make the healthy decision to stay smoke free.
Also prevalent on the site's landing page is a free DVD offer. The DVD is shipped free of charge and provides a series of interviews Dr. Popkin did with real parents discussing views on youth smoking prevention and techniques for keeping kids from ever picking up their first cigarette.
According to Popkin, "The site is full of great information and free offers, and is also linked to our Facebook and Twitter pages via its Community link. In addition, in my blog that is posted on RealParentsRealAnswers.com, I offer regular updates on techniques and advice that can help parents raise happy, healthy children who have high self-esteem and strong family values. Visitors to the site also can email me with questions or comments regarding keeping their kids from smoking, or what other resources they would like to see on the site."
"Real Parents. Real Answers." currently is working on several new offerings for visitors to the site. A pledge program – which will encourage kids to pledge a tobacco-free youth and reward them with certificates and giveaways -- is expected to be offered in 2011. Other coming attractions include games for both parents and their kids, and interactive videos that will assist parents in starting the conversation about not smoking in a fun way with their kids. Parents are encouraged to make visiting RealParentsRealAnswers.com a regular happening, as new features and content constantly are being added.
With one out of four kids aged 12 and older using tobacco, according to the American Cancer Society, youth smoking is still a major threat to a kids' health and well-being. "Real Parents. Real Answers." addresses reasons for the continued use of tobacco among our youth and how to prevent this illegal activity, starting from within the family. "Real Parents. Real Answers." is the youth smoking prevention program of Lorillard Tobacco Company.
# # #