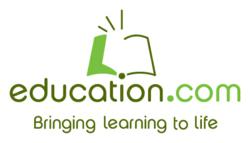 A+ Award winners encompass all of this – they inspire imagination, inventiveness, and a healthy amount of competitive spirit
Redwood City, CA (PRWEB) June 13, 2011
Education.com, the go-to web destination for involved parents, today announced the recipients of its 2011 A+ Awards. The company bestows A+ Awards annually upon kids' products that emulate Education.com's mission of "bringing learning to life" by being exceptionally educational, safe and fun. To select the award winners, Education.com commissioned a team of teachers, parents, curriculum specialists, members of its editorial staff, and kids to put hundreds of products through their paces. The winners' list represents a diverse collection of toys, games, books, gear & CDs from a reversible frog/prince cape for the preschool set, to Lego's Robo Champ game for elementary kids, to Old School Monitor Stereo Headphones for high schoolers.
"It's not news to parents that there's a lot of junk being marketed to kids today," said Education.com Editor-in-Chief Danielle Wood. "Walk into a toy store and it can be difficult to find products that ignite the passions of both parents and the kids they're shopping for. Parents want products that support kids' development, encourage their creativity, and are safe and fairly priced. Kids want toys that are fun the first day they get them, and stay fun as they use them over time. A+ Award winners encompass all of this – they inspire imagination, inventiveness, and a healthy amount of competitive spirit. They have repeat play value and they're interesting enough to grow with the child as his or her abilities improve. To make it on this list, our panel of adult experts and kids has to be really impressed and inspired. Some of the winning products support reading or other curriculum-based concepts, while others work on whole-child developmental areas like sharing or physical fitness, but they all promote learning. And kids will probably never realize it because they'll be focused on how much they enjoy using them."
Education.com's A+ Awards are unique to other seal of approval programs in that there is no charge for companies to be considered for the award, nor is there any fee for winners who use the A+ Award winner seal to promote their products. Wood explains, "The only way to influence your way on to this list is to create a really outstanding product. We don't accept payment, read pitches, or involve our marketing or advertising teams in the selection process. We go through a pretty grueling process to find the products we think are worth considering. Then we take those products out of their packages, use them, and ask our selection panel to rate them based on very specific criteria. About 45 products make the A+ Award list each year and hundreds that we've evaluated don't."
The complete list of this year's A+ Award winners, as well as all previous winners, can be viewed by visiting http://www.education.com/awards/a-plus/. To view Education.com's A+ Award video visit http://bit.ly/2011AplusAwards.
About Education.com
With about four million visitors a month, Education.com is the go-to web destination for involved parents. Working at the crossroads where parenting and education meet, Education.com gives parents the information they need to help their kids reach their full potential and the ideas they want to make learning together fun. From kindergarten readiness through college prep, Education.com offers parenting and education articles; high quality, educational activities, printables, and worksheets; engaging video content; a rich community experience; and a resource that provides qualitative and quantitative information about schools across the country. Education.com was founded in 2006 and is headquartered in Redwood City, CA. The company is backed by leading venture capital firms, Azure Capital Partners, TeleSoft Partners, and California Technology Ventures. For more information, please visit http://www.education.com.
###