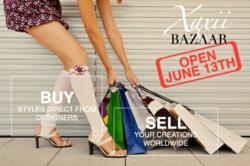 Finally the moment I have been waiting for all my life - an independent fashion designer
Chicago, IL (PRWEB) June 14, 2011
Xaxii is proud to announce the launch of Xaxii Bazaar, a virtual marketplace for designers and fashion enthusiasts, as the newest addition to its repertoire of social commerce solutions for emerging and established talent in the fashion, beauty and lifestyle industries. Xaxii Bazaar provides a straightforward business venue designed to advance trend-setting styles by circumventing the traditionally expensive and time-consuming process of bringing products to market. By eliminating inhibitive cost and providing a comprehensive business venue, Xaxii Bazaar empowers the independent fashion industry professionals to realize their full potential and gain a well established foothold among fashion's top players.
As it stands, the reigns of the contemporary fashion world are held by a small group of companies concentrated in a few metropolises around the globe, resulting in a creative industry limited by physical and monetary constraints.  This bottleneck phenomenon necessitates expensive marketing strategies and supply chain costs, which hinders newcomers and innovative designs from entering the market. Constrained by the overt capital and excessive footwork necessitated by the current system, talented designers are limited to their immediate audience and stop short of breaking into larger, more lucrative markets.
The dawn of e-commerce promised a revolution in entrepreneurship and presented a viable alternative to the complicated fashion industry business processes seen today; however, the broad and unfocused nature of current sites prohibits sellers from leveraging them to network or promote wares. Due to the inherent anonymity and disengaging structure of current e-commerce venues, it becomes difficult to foster the direct, communicative relationships between buyers and sellers that harbor the promise of future business.
To address this problem, Xaxii Bazaar directly connects designers to fellow entrepreneurs and like-minded customers with an expressed interest in fashion—from the seller's perspective, this direct access exponentially increases exposure to interested consumers and new trends. Meanwhile, buyers gain access to a global network of designers whose wares they can browse and judge first-hand without being limited to respective boutiques' selections, while also benefiting from a highly personalized, real-time shopping experience uninhibited by geographic limitations. By placing producers and consumers on the same platform, the clientele decides the success of the latest creations by connecting with designers, rating items on Catwalk, and creating and sharing wish lists within their Xaxii network. Bazaar unites the leisure and practicality of online shopping with the advantages of personal contact to extend the isolated shopping experience. The conventional marketplace is transformed into an opportunity to network with knowledgeable fashionistas who are enabled to provide constructive feedback and acknowledgement within an extensive, international community.
The integrated nature of Xaxii's international community of fashion lovers allows sellers infinite opportunity to leverage our marketing team in heightening exposure and sales. Top rated designers are acknowledged in Catwalk and ultimately featured in Xaxii magazine, so that sellers benefit from external promotions and visibility on the internet. Shared wish lists and notifications of respective fan bases also bring attention and customers to boutiques, giving both buyers and sellers incentive to grow a network and be aware of the latest products. The unparalleled marketing opportunity extended through Bazaar provides designers with a versatile, interrelated system that maximizes publicity on a worldwide level to bring cutting edge fashion, beauty and lifestyle wares to global awareness.
Focused on the both long and short term goals of fashion entrepreneurs,Xaxii provides the framework and tools to reach a global audience of fashion-forward customers while simultaneously cultivating a network of future clientele. The results of this phenomenon encourage a self-perpetuating and ever progressive fashion marketplace equipped to bypass the tough requirements of the traditional fashion industry and encourage the progression and visibility of creative professionals at an unparalleled rate.
###