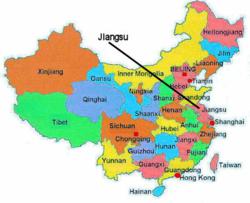 The China Roadshow will help propel cleantech investment to the next level and provide the capital these early stage companies need to grow their businesses and create jobs.
Los Angeles, CA (PRWEB) June 14, 2011
OnGreen announced today that the company has sourced cleantech companies to participate in the China Capital Roadshow, an investor match-making event with active and influential Chinese cleantech investors in the Jiangsu province. Approximately twenty public and private investors from Jiangsu, such as the S.O.E. Suzhou Chuangyuan Investment & Development (Group) and Hengtong Group., will meet August 10th through August 13th with a range of cleantech companies seeking investment capital or project financing.
The province of Jiangsu, home to powerhouse cities such as Nanjing and Suzhou, has been a hot spot for international economic development and has the second highest GDP in China. In 2010, the outward investment from Jiangsu surpassed $1.2 billion and the province is expected to invest in emerging industries, namely renewable sources of energy, new energy equipment, environmental protection and smart power grid.
"The Jiangsu Department of Commerce is pleased to be hosting the OnGreen cleantech delegation from the U.S. as we pursue our joint interest in a greener future," said Jiangsu Department of Commerce Director Lou. "OnGreen has been an ideal platform to source and accelerate cleantech investment opportunities for the Jiangsu cleantech investment community."
The companies that will be included in the investor and entrepreneur match-making are early stage cleantech companies delivering innovative new solutions in renewable energy, energy efficiency, transportation, waste water treatment, advanced materials and other cleantech oriented industries. Kinectic Traction Systems (KTSi), a company which provides next generation energy storage and delivery solutions for electric rail systems sees the value in participating in the roadshow. Chandler Williamson of KTSi comments, "With over 5,000 miles of high-speed rail installed, China leads the world in electric rail systems and represents an ideal market for us to seek investment and business partners."
The event in Jiangsu comes after the Hong Kong Trade Development Council (HKTDC) investment mission to Los Angeles in May, which used OnGreen to source cleantech companies. In addition to partnering with the Jiangsu Department of Commerce, OnGreen has developed strong ties with the Joint U.S.-China Collaboration on Clean Energy (JUCCCE) and the University of Michigan to research investment opportunities in University R&D and patents in exchange for joint rights to the associated intellectual property. OnGreen has also opened a Shanghai office in an effort to expand globally.
"A global perspective is required to link innovation from one area of the world with investment and market demand in another," said Nikhil R. Jain, CEO and founder of OnGreen, Inc. "These specialized international events will help propel cleantech investment to the next level and provide the capital these early stage companies need to grow their businesses, create jobs and deliver the latest solutions."
About Jiangsu Province Department of Commerce (DOC)
The Jiangsu DOC is responsible for formulating and implementing policies and reform plans for foreign trade, economic cooperation and foreign investment and is responsible for coordination between laws, regulations, policies, international treaties and agreements of foreign economy and trade. For more information please visit http://www.jiangsudoc.gov.cn
About OnGreen
OnGreen is the world's largest cleantech social marketplace. Members from across the globe work together, connecting the best ideas in cleantech to funding and expertise, translating IP into ROI. With thousands of entrepreneurs, investors, and business and technology experts spanning 35 countries, it's never been easier to connect with the people and resources needed to turn today's energy and environmental challenges into business opportunities. OnGreen is headquartered in Los Angeles. Connect with the world's leading cleantech investors at http://www.ongreen.com.
Contacts:
Chathri Munasinghe
chathri(at)ongreen(dot)com
(800) 297-0445 x 207
Twitter: @OnGreenInc
Facebook: OnGreen.Inc
###