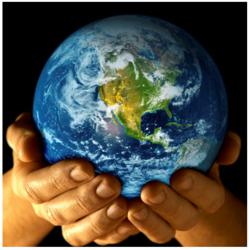 Believe that man is the root cause of a rapidly changing climate or not, you still have to take action if the sea level is rising.
Washington, DC (PRWEB) June 15, 2011
The Security and Sustainability Forum (SSF) has announced its complimentary summer and fall webinar lineup focusing on Adaptation and National Security.
SSF's Adaptation and National Security Webinar Series is designed to assist managers, decision makers and professionals from government, industry and academia better understand and promote effective measures to adapt to the national security threats of a changing climate. Each 90 minute live session hosts a panel of experts in the field.
We have been experiencing extreme weather conditions including hurricanes, floods and heat. Whether the cause is man made or natural, if persistent society must still be able to adjust and adapt to these extremes in ways that maintain economic vitality.
The impacts on food and water supply and quality, public health, infrastructure and the economy could be as severe to society as any military or terrorist threat. Learn more at this SSF webinar series. Register at http://www.securityandsustainabilityforum.org/new/events
Session 1: Adaptation in a Changing Climate and Its Impact on National Security
Date: June 21, 2011 Time: 10:15 - 11:45 a.m. EST
An introduction to adaptation and the natural and socioeconomic impacts affecting the security of the nation and setting the stage for the remaining webinars in the series.
Moderator Eileen Shea, Chief Climate Services and Monitoring Division National Climatic Data Center, NOAA and panel members: Rowan Douglas Chief Executive Officer, Global Analytics, Willis Re and Chairman, Willis Research Network Willis, Ltd., Missy Stults, Climate Programs Director, ICLEI - Local Governments for Sustainability USA; and Lynne M. Carter, Ph.D., Associate Director, Southern Climate Impacts Planning Program and Coastal Sustainability Studio, Louisiana State University.
Join the discussion on how climate impacts requiring adaptation are determined and the types of adaptations that can be incorporated into planning at the national, regional, and local levels.
The SSF Adaptation and National Security Webinar Lineup
Following Eileen Shea's June introductory session, SSF will host the following monthly online sessions:

Session 2 - Adaptations to Protect the Nation's Food and Clean Water Supply;
Session 3 - Adaptations to Protect the Health of the Nation;
Session 4 - Adaptations to Protect the Nation's Physical Infrastructure; and
Session 5 - Adaptations to Maintain Economic Growth in a Changing Climate.
Check the SSF website to register and for the schedule, panelists for the series. . http://www.securityandsustainabilityforum.org
About The Security and Sustainability Forum: SSF hosts free events on issues of environmental protection and national security. SSF Directors are former environmental and defense federal officials and business managers with their finger on the pulse of these issues.
###