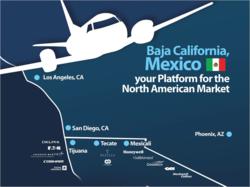 Baja California´s aerospace industry represents a workforce of 13,000 operators, this is the 50% of Mexico aerospace industry employment.
Tijuana, Mexico (PRWEB) June 14, 2011
Tijuana, EDC - Mexico has become an ideal partner for the "high mix/low volume" aerospace industry. In the last 10 years exports have grown over 15 times, from 270 million in 2001 to an estimated 5 billion in 2010, and it is expected to double within 5 years. Baja California has become Mexico's #1 aerospace manufacturing region, with over 13,000 skilled workers concentrated in more than 51 companies, representing 50% of the total employment of Mexico in this industrial sector. Over 65% of aerospace companies in Baja California are ISO 9100 and Nadcap certified including key leaders such as HONEYWELL, GULFSTREAM, ROCKWELL COLLINS, BOURNS, EATON, PARKER, ZODIAC, LOCKHEED MARTIN, COBHAM, DELPHI and HUTCHINSON among others.
During the Paris Air Show the Baja California team will feature a business seminar, Tuesday June 21st at 12:00, focused on supply chain opportunities for the $30 billion U.S. Dollar market within the Southwest United States and Northwest Mexico ($2 billion just in Baja California). The seminar will be held within the Mexico Pavilion located in Hall 3 Stand B60. Visitors of the Mexico Pavilion will meet with experts on how to establish a manufacturing operation in Baja California, as well as the availability of government incentives.
For more information about business opportunities in the Baja California region or to register for the Seminar at the Paris Air Show, email contact(at)tijuana-mex(dot)com
The Tijuana EDC helps companies establish successful manufacturing operations in Mexico and to take advantage of business opportunities of vertical integration introducing qualified Mexican Suppliers in to their operations, and accessing new markets, considering that Mexico has preferential trade agreements with 44 countries. For more information on how to take advantage of these opportunities contact the Tijuana EDC at contact(at)tijuana-mex(dot)com or visit their website http://www.tijuana-edc.com
###