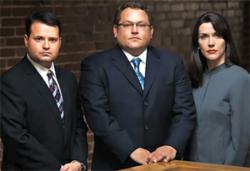 With the addition of trial specialist Thomas C. Mayo, the Byrd Law Firm feels they are more prepared for trial now than ever
Houston, TX (PRWEB) June 13, 2011
The Byrd Law Firm has announced the addition of a new Houston Personal Injury Attorney to their firm. Thomas C. Mayo has made the move from Germer Gertz and is ready to play a key role in the firm.
Mr. Mayo brings with him a decade of experience successfully handling jury and bench trials. He has handled large dockets and has tried many cases to verdict.
The Byrd Law Firm founder, Jason Byrd comments, "Sure we would love to settle all cases before they reach the courtroom, but sometimes that just is not possible. For that reason, a worthwhile law firm will always prepare as if trial was imminent." With the addition of trial specialist Thomas C. Mayo, the Byrd Law Firm feels they are more prepared for trial now than ever.
Thomas C. Mayo does not just come with an esteemed case record—he has also received multiple awards for his efforts. In fact, he has received the Texas Super Lawyers Rising Star Award the last four years in a row. The Byrd Law Firm plans on continuing with his momentum.
Mr. Mayo also has experience as more than a Houston Personal Injury Attorney. "He has tried his hand rather successfully in a variety of fields of law," Byrd explains. "Complex litigation, insurance litigation, personal injury litigation, representation of governmental entities—you name it!"
If you would like more information on the addition of Thomas C. Mayo to the Byrd Law Firm, you may call 1.888.616.2973. You can also visit http://www.txbyrd.com to hire a Houston Personal Injury Attorney.
About the Byrd Law Firm
The Byrd Law Firm got its start in 2005 with a handful of cases. Since then Houston Personal Injury Attorney Jason Byrd has worked hard to grow the firm into a nationwide service provider. Along the way he has won millions of dollars in settlements for his clients, as well as quite a few awards for his efforts. Byrd has recently added another superstar lawyer to his firm with Thomas C. Mayo. Call 1.888.616.2973 or visit txbyrd.com to find out more about the firm.
###