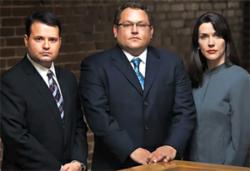 A Category D drug is one for which there is solid data that supports the fact that the drug presents a human fetal risk
Houston, TX (PRWEB) June 29, 2011
Jason Byrd, a lawyer well-known for his experience in filing dangerous pharmaceutical lawsuits, is now offering services nationwide as a Topamax attorney. These services apply to those who used the drug during pregnancy and subsequently gave birth to a child with birth defects.
This comes as a direct result of the FDA's recent move to upgrade Topamax from a Category C to a Category D drug.
"A Category D drug is one for which there is solid data that supports the fact that the drug presents a human fetal risk," Topamax attorney Jason Byrd explains. "Possible birth defects include Cleft Lip, Cleft Palate, Genital Defects, and Skeletal Malformations. And that's not even all of them!"
Topamax is a pharmaceutical drug that is taken to prevent Epileptic seizures and migraine headaches. While initially it was thought to present only moderate risks to pregnant women, it is now known that when taken during the first trimester of pregnancy, it can severely damage the development of a fetus.
There are safer alternatives to Topamax available to pregnant women. Women who suffer from Epilepsy are encouraged to consult their doctor about these options if they are pregnant.
For more information on retaining a Topamax attorney, please dial 1-888-616-2973 or visit http://www.txbyrd.com.
About the Byrd Law Firm
The Byrd Law Firm has years of experience representing clients in all sorts of dangerous pharmaceutical related lawsuits. From Accutane to Boniva to Darvocet, the attorneys of the firm have dealt with it all. Most recently, they have begun preparing cases for those who have been negatively affected by Topamax use during pregnancy. For more information on the firm and their Topamax attorney services, visit them on the web at txbyrd.com or call 1-888-616-2973.
###