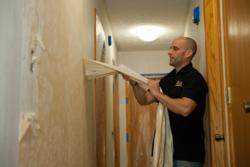 "Many clients have horror stories for me about past efforts to remove wallpaper. They've either hired someone who didn't do a good job or they've tried to do it the
Traverse City, MI (PRWEB) June 22, 2011
Professional painter, wood restorer and wallpaper removal specialist Dan Brady recently released an HGTV-style video called "Learn How to Remove Wallpaper Like a Pro." The wallpaper removal DVD is available through Brady's website.
The comprehensive video offers step by step instruction including:

Preparing the room
How to use a Paper Tiger – scoring the walls
Mixing the wallpaper removal solution
Removing the wallpaper – in full sheets, just like it went up
Cleaning the walls
Preparing the walls for paint
The DVD also features the finished room and interviews homeowners Mike and Gina Esch, who share their horror story about a past wallpaper removal project and compare it with this experience.
This is the second DIY video that Brady, owner of Dan Brady Painting and Wood Restoration in Traverse City, Michigan has created. As in his first video, Learn How to Paint a Room Like a Pro, Brady has drawn on his 20 plus years experience in the painting, wood restoration and wallpaper removal business to produce the DVD.
"Like those who want to do their own painting, people who want to remove wallpaper are usually interested in saving money. Many people have told me that wallpaper removal is the home decorating job they dread the most because they've had the experience of taking off wallpaper in bits and pieces. Using this video, do-it-yourselfers will learn how to get that old wallpaper off efficiently. We teach them to take it down the same way it went up, in full sheets," Brady says.
The new DVD costs $24.95 and is available online at danbradypaintingtricks.com as is Brady's first DVD, Learn How to Paint a Room Like a Pro. The two DVDs are sold in a bundle for $39.95, a 20 percent discount.
For a sneak peak at the creation of Brady's new DVD check, out this behind the scenes video or view his commercial.
Brady, a Traverse City, Michigan native, learned to paint working his way through Central Michigan University, where he graduated with a finance degree. He worked as a computer consultant for several years before founding Dan Brady Painting and Wood Restoration about 10 years ago to handle both residential and commercial painting projects. He was featured on The Learning Channel's Trading Spaces program and HGTV's Carter Can. where he worked with his friend Carter Oosterhouse, another Traverse City native. Brady is a member of the Home Builders Association of the Grand Traverse Area and the Traverse City Area Chamber of Commerce, past president of Business Networking International, president of the local chapter of Painting and Decorating Contractors of America and is a board member of Habitat for Humanity, Grand Traverse Region.
###