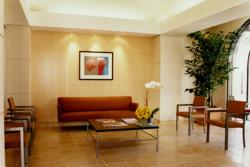 Invisible eyelid surgery
Beverly Hills, CA (PRWEB) June 14, 2011
With nearly 10% unemployment, looking older doesn't exactly offer an advantage to finding a job. More people are turning to cosmetic procedures to help with this issue. Dr. Lloyd Krieger, medical director of Rodeo Drive Plastic Surgery, explains one of the easiest ways to look younger is to have eyelid surgery.
We all know the problem. Sagging upper eyelid skin and fatty bulges of the lower eyelids. The troubling telltale signs of surgery - that scar over the upper eyelids where the surgeon had to cut and stitch are usually dead giveaways. And the lower lids don't typically get away Scott-free either. Removing those bulges from underneath the eyelid can be performed without a visible scar, but this approach often leaves a deflated lower eyelid and more dreaded lines of age. A Beverly Hills plastic surgery specialist has to then get out his handy scalpel and makesanother incision along the lower eyelid to take up the slack and presto change-o -- another scar.
Dr. Krieger, already internationally renowned for his Mommy Makeover Los Angeles, claims to have developed an answer. The so called "invisible" blepharoplasty, or eyelid job. He developed the approach as a byproduct of the requests of his patients expecting results without their savvy fellow Angeleenos noticing the obligatory subtle but telltale scars.
The procedure involves both a traditional subconjunctival blepharoplasty (lower eyelid job) where a hidden incision under the lower eyelid is made to remove any fatty deposits and a simultaneous advanced laser treatment.
In order to tighten the skin without an incision though, Dr. Krieger works with his colleague and laser expert Dr. Christopher Dannaker, a board certified dermatologist, who uses the micro-fractional CO2 resurfacing laser to treat lower eyelid skin. Dr. Dannaker is able to utilize this same laser on the upper eyelids and forgo cutting surgery. Sometimes the procedure can be combined with other work, such as Beverly Hills rhinoplasty.
Dr. Krieger calls this procedure is called the "Rodeo Drive Invisible Eyelid Surgery" as it does not require any incision over the skin's surface. Dr. Krieger explains, "The procedure is beneficial because it offers total eye rejuvenation of the upper and lower eyelids, along with removal of lower eyelid fat pads, all done without any skin incision and with healing in about a week. My patients are looking for the most cost effective approach to looking younger. For many people, this procedure meets that requirement perfectly."
At Rodeo Drive Plastic Surgery, the scarless eyelid rejuvenation utilizes the talents of both the plastic surgeon and dermatologist. Fractional CO2 laser resurfacing of the eyelids is a delicate and nuanced procedure and multiplies the benefits provided by the fat removal done in the surgery.
Drs. Krieger (plastic surgery) and Dannaker (dermatology) feel that combining their skills is essential for an optimal cosmetic outcome. "Dr. Dannaker and I are pleased to collaborate on this novel combination of procedures. We each provide patients with our core expertise and I think they appreciate this interdisciplinary approach -- as well as the results we achieve for them," concludes Dr. Krieger.
Rodeo Drive Plastic Surgery was founded by Dr. Lloyd Krieger, and is located on the famed Rodeo Drive in Beverly Hills. He serves as the facility's Medical Director and also developed the Rodeo Drive Mommy Makeover and Rodeo Drive Belly Button as done as part of the tummy tuck procedures. Dr. Krieger has been recently featured in the Wall Street Journal among other media outlets, both nationally and internationally.
###