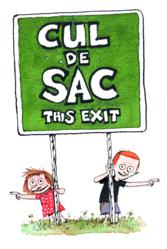 This is truly an acknowledgment of the inspiring work Richard produces on a daily basis in Cul de Sac.
Kansas City, MO (PRWEB) June 14, 2011
Richard Thompson found himself atop one of the great pinnacles in a professional cartoonist's career at the National Cartoonists Society's 65th Annual Reuben Awards dinner, held in Boston on May 28. Thompson, creator of the syndicated comic strip Cul de Sac, was honored by his peers with the Reuben Award for Outstanding Cartoonist of the Year.
The Reuben Award, named after longtime honorary NCS president Rube Goldberg, is considered the top prize in professional cartooning. Past winners include such industry luminaries as Walt Kelly, Charles Schulz, Garry Trudeau, Bill Watterson, Gary Larson, Bill Mauldin and Will Eisner.
In less than four years of syndication, Thompson has received five NCS nominations, including back-to-back Cartoonist of the Year nominations in 2010 and 2011 and Best Newspaper Strip nominations for Cul de Sac in 2008, 2009 and 2011.
A gracious and humble Thompson called the award ceremony "a happy blur."
Lee Salem, president and editor of Universal Uclick, was on hand at the ceremony to see Thompson inducted into the elite group of Cartoonist of the Year winners.
"This is truly an acknowledgment of the inspiring work Richard produces on a daily basis in Cul de Sac," said Salem. "There isn't a more knowledgeable group of cartooning critics anywhere than the professionals that make up the NCS, so for Richard to receive this kind of recognition from his peers only reaffirms how privileged we are to work with such an exceptional talent."
Cul de Sac stars four-year-old Alice Otterloop and her socially awkward older brother, Petey. Alice spends her days as an outspoken and rambunctious tornado of a toddler at the Blisshaven Academy preschool, while Petey tries to remain invisible and limit his stress-induced out-of-body experiences while attending middle school.
The strip began when Thompson, who had been creating the editorial cartoon "Richard's Poor Almanac" for The Washington Post's weekly Style section since 1997, was approached by then-editor Tom Schroder with the idea of creating a weekly comic strip about Washington D.C. Thompson considered several ideas for the strip before focusing on the varied preschool characters who participated in a "children's roundtable" he had used several times in "Richard's Poor Almanac."
Thompson proved to be a natural at handling the challenges of a character-driven comic strip, and Cul de Sac quickly became a hit with fans of the Post.
After two years of creating Cul de Sac as a weekly feature, Thompson signed a syndication agreement with Universal Uclick. The strip made its debut in newspapers nationwide on September 10, 2007.
For more information on Cul de Sac and to inquire about adding this comic strip to your publication, please visit UniversalUclick.com.
About Universal Uclick
Universal Uclick is the largest independent syndicate in the world and a leading digital entertainment provider of humor, comic strips, political cartoons, and other content for print, web and mobile devices. Universal Uclick provides editorial development, licensing and other distribution services for iconic brands like Doonesbury, Dear Abby, and some of the most significant comics in history, including Calvin and Hobbes, The Far Side, Garfield, Peanuts, Dilbert, For Better or For Worse, Cathy, and Ziggy as well as recent hits Lio, Cul de Sac and The Argyle Sweater. Effective June 1, 2011 Universal Uclick assumed management of syndication services for United Feature Syndicate which includes the properties Pearls Before Swine, Get Fuzzy, Marmaduke, Frank & Ernest, The Born Loser, Big Nate and Miss Manners, and the Newspaper Enterprise Association (NEA) Package.
###