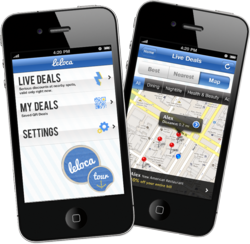 (PRWEB) June 16, 2011
Airlines and hotels use the internet to manage perishable inventory. Leloca is built on the mobile internet to give local merchants similarly powerful yield management. An empty restaurant table, unsold theater seat, or open spa booking, is a wasted opportunity. Leloca lets merchants instantly attract new customers and increase profits from their first day using Leloca.
With geotargeting, merchants can target where deals are shown, even if they want to draw customers exclusively from nearby neighborhoods. And, deals can instantly be turned on/off.
This prevents the expensive opportunity cost of crowding out full-paying customers. Leloca is totally free for users, and merchants pay only about $1 per additional customer.
Since merchants are highly incentivized to use Leloca, users can expect a warm welcome when they visit Leloca merchants: users are arriving exactly when they're most wanted. Users can always get free, instantly redeemable deals in three clicks.
"We built a platform for local businesses that's powerful and easy to play around with--and that helps them reach new customers and maximize their potential. We want mobile technology to make things work better, not just be another ad platform," says Douglas Krone, CEO.
Merchants can sign up today at http://www.leloca.com. Merchants that sign up during the launch campaign can use Leloca free of charge until October 31st, 2011.
The app will be available for consumers in the iPhone App Store and the Android Marketplace this July. Leloca was founded by Douglas Krone who founded Dynamism.com in 1997, which quickly became a leading online retailer of mobile devices. He also founded Gizmine.com, an emporium of crazy Japanese gadgets. He has advised numerous tech start-ups and often speaks on mobile technology, the consumerization of enterprise technology, and related topics. He studied economics at Northwestern University.
For more information or to schedule an interview, contact Leora Israel (646) 535-6221 leora@leloca.com
###