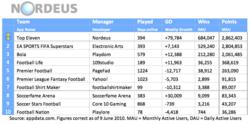 Belgrade, Serbie (PRWEB UK) 14 June 2011
Nordeus, developers of popular Facebook football game Top Eleven, have knocked gaming giant EA off the top of the league, with the number of monthly active users for Top Eleven surpassing those of the existing champions EA SPORTS FIFA Superstars for the first time. Top Eleven is now the most played sports game on Facebook, with over 2.8 million monthly active users and 700,000 people logging on daily to pit their football managerial skills against that of their friends.
The social game is adding new Facebook fans at a rate of 80,000 every week, over ten times that of EA (7,143 a week) with enough new supporters to fill Manchester United's Old Trafford stadium to capacity (which seats 75,000 fans).
Top Eleven lets its users select, train and build their squad of players to compete against fellow Facebook friends over the course of a 28-day season. Those at the top of the league can relish in the glory of promotion to the next level, from Newbie to Rookie manager, all the way up to a Pro, with the rewards of more money, better players and the lure of the Champions Cup. Managers also look after every detail of running the club such as finances, picking the best sponsorship deals and building new stadium facilities.
Tomislav Mihajlović, Nordeus COO, said: "We're stunned to see our company overtake one of the world's biggest third-party games developers to create Facebook's most played sports game. Top Eleven has been live for just a year, but already we've passed this significant milestone and added millions of players. The final whistle's not been blown yet, so we'll continue to innovate and add to what we, and our users, think is already a great game."
At this pivotal point of the season, the league table of Facebook sports apps shows that Top Eleven is beginning to form a comfortable cushion on the trailing pack of football games.
Top Eleven monetizes its 2.8 million users through in-app purchases and advertising. Users can purchase tokens to use for in-game activities such as bidding for new signings, or get free tokens by clicking through adverts paid for by brands such as Groupon. Nordeus also provides other advertising opportunities, allowing brands to sponsor in-game activities and space, and has recently signed with Appatyze to maximise the returns on advertising on banner advertising around its games.
Founded in June 2009, Nordeus have been on a strong run of form since launching the game in May 2010. The team is fast expanding its Facebook empire with 25 staff in offices across Belgrade, Dublin and Tel Aviv.
About Nordeus
Nordeus are makers of Top Eleven – Facebooks No.1 sports game. The company aims to provide the highest quality social gaming experience to millions of people, making social games that are free and accessible for everyone to play, on any device. Nordeus is a private limited company based in Belgrade, Serbia.
http://www.nordeus.eu/
###