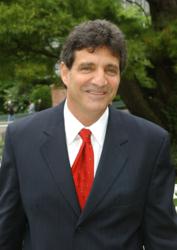 Jericho, NY (PRWEB) June 20, 2011
Michael Dubb was the leading owner by wins at the New York Racing Association's three racetracks in 2010, but his entry into Thoroughbred racing came through children first with the development of Anna House, and horses second.
Dubb, a Long Island real estate developer, oversaw and donated much of the Belmont Park building that houses Anna House, a pre-school day-care center for the children of backstretch workers. By the time Anna House opened in January 2003, Dubb had decided to dive full-bore into developing a racing stable.
A connection with Racing Hall of Fame jockey Jerry Bailey was instrumental on both fronts. Bailey and Dubb had developed a friendship through common ties with their children and wives, and Bailey's wife, Suzee, helped hatch the concept for Anna House.
"It started with Suzee's and Tina Mott's Bible group giving Christmas gifts to these kids of employees of the backstretch, kids of hot walkers, kids of grooms, kids of exercise riders," Jerry Bailey said. "It was December and we'd see all these kids in cars at five in the morning, with the heat running. We asked around and there was just no place to put them. Their parents would take them to the track and keep them in the car for two or three hours. That's what started the idea.
"In putting all this together, I had just met Mike, and he used to come over for Monday Night Football. We'd rotate houses, his house, my house, and two other friends. We threw this out to him and he said 'I want to get involved. I do this, I deal with these people all the time, let me help you get through this.' He just took the ball and rolled with it, and he didn't stop until the thing was done. Without him it wouldn't have been done."
The experience renewed Dubb's interest in getting involved as an owner. He had raced Standardbreds in the past and dabbled with a few Thoroughbreds in the 1980s, but even before the doors of Anna House opened, he was ready to take a bigger leap into New York racing.
"I was a lifelong fan of horse racing, and I had thought about getting back into it, but I was waiting for Jerry to retire because he was such a good friend and I thought it would be awkward if I was claiming a horse he had been riding or if I was running against him," Dubb said. "I ended up not waiting until he retired to get started, and it was fine. Jerry and I are still the best of friends."
Strong Supporter
Dubb also is not standing pat with Anna House, which has been at capacity and will expand from 7,000 to 9,000 square feet with the addition of two rooms in time for the Belmont Stakes (G1) on June 11. Dubb is donating and building the new space.
"We're hoping it will add ten to 15 kids to our capacity," said Dubb, the chairman of the Belmont Child Care Association. "It's been incredibly successful. We take them in as young as six weeks, we teach them to speak English, we teach them computer skills, and when we graduate them just prior to kindergarten, they're ahead of the curve as an asset in their classes as opposed to being behind."
As a member of the NYRA board of directors, Dubb also is hoping to spur enhancements for stable-area living accommodations at Belmont Park and Saratoga Race Course once slot machine revenue from Aqueduct begins pouring in later this year.
"There's housing on the back-stretch, but we'd always like to make it better, and we think right now is a good opportunity to do that," he said. "We're looking at the model they used at Gulfstream Park and Palm Meadows [Training Center]. We'd like to have it more situated, closer to some of the amenities like the backstretch kitchen, the library, and the recreation area instead of spread out all over the track. We'd like to have a little more sense of community, which is what we try to do in our real estate developments."
By Jeff Lowe
About Anna House: Anna House is a 7500 square-foot day care center for the children of the Belmont Park Racetrack workers. It was established by The Belmont Child Care Association (BCCA), a not-for-profit corporation, and is open 365 days a year to accommodate the work schedules of parents in the racing community. Not only does Anna House offer child care, but it provides early childhood education as well as scholarship funds to those unable to afford the cost of care. Its volunteer board represents the broad-based industry support BCCA enjoys. Michael Dubb, founder of The Beechwood Organization, built and donated Anna House in 2003. In 2011, Dubb donated a classroom expansion which added two new classrooms to the Daycare center. The Belmont Racetrack is located in Elmont in Long Island, New York.
About The Beechwood Organization: The Beechwood Organization is one of the largest developers of residential housing in New York. Over the past two decades, Beechwood has developed over 55 communities. The Beechwood Organization is currently developing Meadowbrook Pointe, a 720-unit active adult community replete with a 25,000 square foot clubhouse on the former site of the Roosevelt Raceway, as well as unique riverfront community at Harbour Pointe at Shorehaven in the Bronx. Additionally, Beechwood is a partner in the award winning, smart-growth master planned community in the Rockaways, Arverne By The Sea. When complete, this mixed-use community will have approximately 2,200 homes and be the largest revitalization project in the Northeast.
###