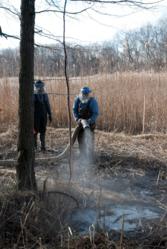 Permeable Powder Activated Carbon (PAC) Can Reduce Contaminant Availability in Sediments with AquaGate+PAC
Toledo, OH (PRWEB) June 21, 2011
AquaBlok, Ltd., a manufacturer of innovative composite particle materials, and recognized as a provider of a sediment remediation materials for thin cap sequestration and treatment technology, participated in the successful installation of its permeable powder activated carbon delivery approach – called AquaGate+PAC.
Key Features of the AquaGate+PAC are as follows:

High Permeability – In the range of 5x10-3 cm/sec. (permeability can be varied)
Uniform Activated Carbon Delivery – Coated Aggregate Delivers 5% Activated Carbon by Weight
Powder Activated Carbon Improves Rate of Adsorption – 325 Mesh (44 Micron) Size Material
Can Be Uniformly Mixed and Placed with Sand – For Enhanced Chemical Isolation Layer
Positive Placement / Stable – Aggregate Holds Carbon at Placement Location
Release of Activated Carbon to Sediments – Coating Material Breaks Down and Mixes Over Time
The ability to uniformly place treatment materials (such as activated carbon, which is most effective in a powder form) in an aquatic/sediment environment has been a major challenge. To address this challenge, the AquaBlok composite particle technology was selected as a means for placing a uniform coating of a treatment material (in this project - powdered activated carbon) on an aggregate core – for bulk delivery in a wetland environment.
The Department of Defense (DoD) Environmental Security Technology Certification Program (ESTCP) funded AECOM Environment and the University of New Hampshire (UNH), to demonstrate and validate an innovative technology for the in situ sequestration of contaminants present in hydric soils of palustrine wetlands (ESTCP Project ER-0825: In-Situ Wetland Restoration Demonstration). The overall objective of the project is to demonstrate these remediation technologies without devastating the ecology of these systems through conventional removal approaches.
Funding and technical participants in the project include; the Naval Facilities Engineering Service Center (NFESC), and its DoD partners [Naval Facilities Engineering Command (NAVFAC), U.S. Army Center for Health Promotion and Preventive Medicine (USACHPPM), Naval Facilities Engineering Command Atlantic Division (NAVFAC Atlantic), Air Force Center for Environmental Excellence (AFCEE), and Engineer Research and Development Center (ERDC) Waterways Experiment Station.
Amended materials, known as AquaGate+, will address a wide range of common contaminant issues as well as a range of very typical remediation site characteristics. The materials can be configured in a wide range of potential treatment designs, such as the use of reactive gates in a 'funnel & gate' design to treat upwelling of groundwater or gas venting.
AquaBlok is currently able to provide a composite particle with the following range of Treatment Materials:

Activated Carbon - EHC-MTM
Zero Valent Iron - Organoclays (various manufacturers)
Sulphur - Shredded Tire
Zeolites - Aluminum Sulfate
Below is a partial listing of both types of sites and contaminants, as well as typical uses where the material can be applied.
Types of Sites/Contaminants: Uses:
Manufactured Gas Plants (MGP) - PAH Sediment Capping
Wood Treatment Facilities (Creosote) Permeable Reactive Barriers (PRB)
Mercury / Arsenic / Metals Cut-off Walls / Soil Mixing
Chlorinated – PCB's, VOC Ponds / Wetlands / Filtration
DDT / Ammonia / Phosphorus Berms / Spill Control Applications
About AquaBlok, Ltd.
AquaBlok, Ltd. is a manufacturer of composite (clay-based) materials utilizing its patented coating and amendment approach. The company has a long history in the environmental industry and a range of products utilized in sediment remediation technologies. AquaBlok utilizes its delivery system in a range of other products including, pond and industrial impoundment sealing, as anti-seep collars or trench dams around utility piping, to construct cut-off walls in porous soil conditions, flood control applications (i.e. levee and dam protection), and to deliver organoclay-based materials. In addition, AquaBlok partners with the Adventus Group to deliver a range of their proprietary treatment materials and is a licensee of Halliburton's Bariod Division for the Baraclear® algae treatment product.
###