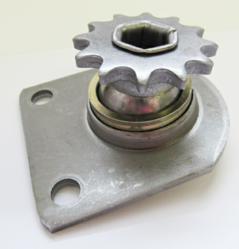 Oshkosh, WI (PRWEB) June 14, 2011
This "sprocket bearing" was created from eight different stamped components. For nearly 90 years Triangle has constructed quality pieces like this at a high quantity with low cost.
This piece is involved in activating a mechanism that deposits corn seeds during planting. It's used in a corn planter for an international agricultural manufacturer. Triangle was challenged to accommodate a hexagonal shaft, so we engineered a round shaft with a hexagonal inside that fit inside a round sleeve bearing. We used a flange mounting to act as a back plate to ensure sturdy mounting.
The benefits to this system are numerous. Our customer saved on assembly time because of the formed nature of the sheet metal, no additional welding was needed. The overall cost was low due to efficient stamp manufacturing. We used no machined parts and the only component not created through our stamping process was the oil-impregnated powdered metal bearing.
Through innovative engineering and strict quality standards Triangle can stamp manufacture small, precise components with high accuracy. This reduces the risk that arises when many components need to work seamlessly together.
Because our tool making is done on site, we can engineer and manufacture with no lag time. We then package and ship the products from our in-house shipping warehouse with just-in-time shipping, reducing storage costs for our OEM customers.
This product could be used in many chain-driven applications, with the possibility of many differently-shaped shafts. It can also be further customized and altered for the specifics in any industry.
About Triangle Manufacturing
Triangle Manufacturing, located in Oshkosh, Wisconsin, uses creative engineering, technical know-how and advanced automation to continue to be the leader in fully customizable metal fabrication, product innovation and invention. We have introduced and redesigned products that are revolutionary in their respective industries. Whether you need lazy susan bearings, or rod ends and custom mountings for direct- drive and belt-driven motors, you can Consider It Done with Triangle Manufacturing.
For more information contact:
Kylie McGowan, Marketing Coordinator
Email:Kylie.McGowan(at)TriangleOshkosh(dot)com
Online: http://www.TriangleOshkosh.com
Call: (920)-235-3710
###