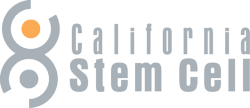 Our method of deriving neuronal progenitors from embryonic stem cells, offers a safe, highly scalable and efficient process for both therapeutic and commercial use
Irvine, CA (PRWEB) June 14, 2011
California Stem Cell, Inc (CSC) will be giving three scientific poster presentations during the 9th Annual Meeting of the International Society for Stem Cell Research (ISSCR) held June 15-18, 2011 in the Metro Toronto Convention Centre, Toronto, Canada. Posters will be presented by Aleksandra J. Poole, PhD, Senior Scientist at CSC.
Dr. Poole's academically rigorous presentations include "The High Purity, Scalable Production of Hepatocytes from Human Embryonic Stem Cells (hESCs); The Utility of hESCs Derived Cells in Predictive Toxicology Applications; and "Method of Neural Cell Purification for Clinical Transplantation." She oversees the Science Department at California Stem Cell, under VP of Research and Development, Dr. Gabriel Nistor, and is a recognized expert in stem cells, and molecular and cancer biology, as demonstrated by her numerous publications and patents.
"Neuronal progenitors have the potential to revolutionize neuronal drug discovery, and treatment of neurodegenerative diseases such as spinal cord injury, Parkinson's, Alzheimer's, and many more. Our method of deriving neuronal progenitors from embryonic stem cells, offers a safe, highly scalable and efficient process for both therapeutic and commercial use," said Hans Keirstead, PhD, Professor of Anatomy and Neurobiology and Neurological Surgery at the University of California, Irvine, and Chairman of the Scientific Advisory Board of CSC.
"Together with our trusted commercial partner Lonza, we are delivering high throughput cellular products which will lead to safer pharmaceuticals and reduced attrition, potentially saving millions in overall development costs," said Keirstead.
Drs. Keirstead and Poole will be traveling later this month to the University of Nis, Serbia where Keirstead will be honored with the title of Visiting Professor, by the Dean of the School of Medicine. Dr Keirstead will meet with many prominent academics and doctors as well as politicians such as the Minister of Health and the Deputy Prime Minister for European Integration.
These high profile meetings between Serbian officials and Dr Keirstead will be followed closely by Serbian media. Dr Keirstead has already been featured on Serbian Television, after he was visited by the team of Serbian reporters last summer, and has advised governments world-wide on the development of stem cell policies and infrastructure.
ABOUT CALIFORNIA STEM CELL
Founded in 2005, California Stem Cell is to catalyze the efficient development of human therapies based on human embryonic stem cells. CSC has developed proprietary methods for scalable production of human motor neurons, neuronal progenitors, hepatocytes, and cardiac cells, at high purity, from hESCs.
CSC is currently developing stem cell based therapies for spinal muscular atrophy (SMA) and amyotrophic lateral sclerosis (ALS, or Lou Gehrig's Disease). CSC also markets high-purity human cells in platforms suitable for high throughput and high content screening of conventional drug candidates using human cell substrates, predictive toxicity of conventional drugs using human cell substrates, and development of experimental research tools. CSC is a privately held Delaware Corporation with headquarters and research facilities in Irvine, CA.
CSC can economically supply large quantities of high purity cells for our own clinical development pipeline in specific application areas. CSC can also supply high purity, fully characterized, clinically relevant human cell populations to companies or other institutions for development of therapies, efficacy screening or creation of toxicity profiles for candidate drugs, or experimental research.
To learn more about California Stem Cell please visit: http://www.californiastemcell.com
Find us on Facebook: http://www.facebook.com/csc
Follow us on Twitter: http://twitter.com/castemcell
ABOUT LONZA
Lonza is one of the world's leading suppliers to the pharmaceutical, healthcare and life science industries. Products and services span its customers' needs from research to final product manufacture. It is the global leader in the production and support of active pharmaceutical ingredients both chemically as well as biotechnologically. Lonza has strong capabilities in large and small molecules, peptides, amino acids and niche bioproducts which play an important role in the development of novel medicines and healthcare products. In addition, Lonza is a leader in cell-based research, endotoxin detection and cell therapy manufacturing. Furthermore, the company is a leading provider of value chemical and biotech ingredients to the nutrition, hygiene, preservation, agro and personal care markets. Lonza is headquartered in Basel, Switzerland and is listed on the SIX Swiss Exchange.
# # #