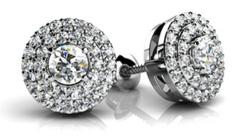 San Diego, CA (PRWEB) June 20, 2011
Anjolee.com added five new styles to their collection of beautiful and diverse diamond earring designs. As with all jewelry products, these new earrings can be customized according to customer's preference of metal type, diamond quality, and carat size. Among the new designs, Anjolee added two diamond stud earrings designs for dressier, more frequent wear, two diamond hoop earring styles for a night out or special event, and one new diamond dangle design that will add glamour to any outfit it's paired with.
Two new diamond stud earrings highlight a volume of diamonds in a unique and stylish way. The first is the 'Surrounded By Diamonds Designer Stud Earrings' Style # ST970. This diamond stud design is available in four sizes ranging from half a carat to one carat total diamond weight. A round center diamond surrounded by even more diamonds offers a dazzling design full of shimmer.
The second new design of diamond studs is the 'Perfect Petals Diamond Stud Earrings' Style # ST975. Available in two sizes, .84 and 1.12 carats and choice of diamond quality, these earrings are the perfect companion to everyday attire. An adorable flower shaped design showcases the round diamonds and the brilliance of each stone. Fourteen round diamonds between the pair and a prong setting to keep each stone secure.
The third is the 'Triple Row Inside Out Diamond Earrings Series' Style # SE63 A,B,C,D,E represent petite, small, medium, large and extra-large hoop choices. The inside out design carries twice as many diamonds and shimmers from multiple directions. There are five hoop sizes to choose from in this model and a variety of carat weights. Any taste and style can accommodated with these gorgeous triple rows diamond earrings. The sizes range from 1.20 carats to 5.23 carats.
The fourth new design is the 'Single Row Inside Out Diamond Hoop Earring' Series Style # SE64. If three rows of diamonds is not your preference, the single row inside out hoops are an outstanding alternative. A single row of diamonds cascades down the front and inside of the earrings. Five sizes are available and include petite to extra large hoop sizes.
Finally, the gorgeous 'Red Carpet Diamond Dangle Earrings' Style # SE61-A are 3.12 carats of dream worthy diamond dangle earrings. A rounded triangle connects to the screw back post which has a drop portion below. These earrings are perfect for a fancier option instead of a pair of designer stud earrings,and are carefully crafted with three rows of elegant diamonds cascading down each earring.
###