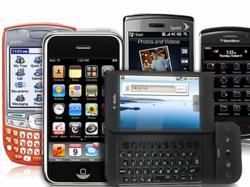 "The mobility race is definitely on... That's why we launched a pilot program that's quick to implement, flexible and affordable, so there's little risk to the business for testing the solution with business users on a variety of devices."
Chandler, Ariz. (PRWEB) June 14, 2011
SEAL Innotech, a leading provider of cloud-based enterprise mobility solutions and a 2011 SAP Pinnacle Awards Finalist, announced today a series of new pilot agreements for its appsFreedom™ enterprise mobility suite.
The pilot engagements will give users in sales, procurement and other remote roles access to SAP from various mobile devices including iPhone, BlackBerry and Android smart phones as well as iPad and Android tablets.
The pilots are already in progress with companies across a number of industries including pharmaceutical, petroleum, wine and spirits, fragrance manufacturing and industrial equipment manufacturing.
Pilot customers are using appsFreedom to streamline business processes and add productivity to everyday tasks such as:

Giving sales reps easy access to CRM activities on smart phones and tablets
Simplifying workflow approvals across procurement, HR, T&E, etc.
Streamlining the distribution of global HR policy updates and acceptance tracking
Giving c-level executives remote access to approve high-ticket requisitions
Speeding shopping cart approvals
…and more
Under each pilot program, SEAL Innotech is fully integrating at least two apps from its appsFreedom suite into the organizations' on-premise SAP system. The agreements give up to ten users within each company unlimited transactions during the pilot to test the solution in a live production environment.
"The mobility race is definitely on, but most large companies are still working through the mechanics of how and where to start," commented Vaidy Iyer, SEAL Innotech CEO. "That's why we launched a pilot program that's quick to implement, flexible and affordable, so there's little risk to the business for testing the solution with business users on a variety of devices."
The appsFreedom 2.0 solution, launched at the 2011 SAPPHIRE® NOW conference, includes a host of single-task, secure apps for sales (CRM), procurement, workflow and analytics that can be implemented individually or bundled to simplify and optimize access into specific SAP environments.
The solution is typically implemented in weeks as it requires no system development or configuration, and no hardware or servers. Updates are deployed and managed entirely through app stores, helping to simplify the ongoing management and support for the IT department.
// About SEAL Innotech //
SEAL Innotech, an SAP software solution partner, 2011 SAP Pinnacle Award finalist, and BlackBerry Alliance Partner, is a leading provider of cloud-based mobility solutions for the enterprise. The company's appsFreedom™ suite of packaged, pre-integrated mobile apps gives users secure, real-time access to enterprise applications from vendors such as SAP, from any desktop or mobile device including smart phones (e.g., iPhone, BlackBerry, Android), tablets (e.g., iPad, Galaxy, PlayBook) and laptops. Apps are delivered as a service (Mobility-as-a-Service model) and are implemented in weeks since no development, system configuration or hardware is required. The appsFreedom suite includes solutions for sales (CRM), procurement, workflow and analytics. For more information, or to schedule an online demo or pilot program, visit http://www.sealinnotech.com.
All product and service names mentioned are the trademarks of their respective companies.
###