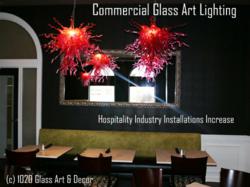 "Revived consumer confidence, new construction, and long dormant projects aimed to more luxury glass art chandelier lighting"
Austin, TX (PRWEB) June 14, 2011
Known for their vast selection of hand blown glass art from around the world, increased demand for new and deferred residential and commercial renovations projects has led 1020 Glass Art to seek out new domestic artists and glass art houses to feature at their flagship location in Downtown Austin's 2nd Street District. The stronger economy has revived consumer confidence, new construction, and long dormant projects aimed to more luxury glass art chandelier lighting and premium sculptures accenting homes, commercial and hospitality installations.
Always seeking to provide inspired, original glass-work to both customers and interior designers alike, 1020 Glass Art (http://www.1020glassart.com) has succeeded in their nationwide search and added many new product lines to both their on-line and in-store selections.
This spring 1020 Glass art has added beautiful bowls and sculptures from Vitrix Glass; stunning hearts, crosses, and stars from Luke Adams; elegant bowls and platters from Hudson Beach Glass; splendidly detailed vases and urns from Art of Fire; intricate, recycled glass bowls from Engler Glass; and show-stopping sculptures of incredible design and craftsmanship from Austin Art Fair's Best in Show Recipient Infinity Art Glass.
Additionally, 1020 Glass Art has been hard at work searching for new lines of hand blown glass chandeliers to complement their existing line of nova bloom and cascade glass art. To meet the demand of their customers, 1020 is pleased to introduce two new chandelier lines of timeless quality and style.
About our new Glass Art Chandelier Collections:
Venetian Chandeliers: Gorgeous old-world design combined with American charm and sensibility, 1020 Glass Art's new Venetian glass art chandelier (Murano inspired lighting) line comes in a variety of styles and eye-pleasing colors. Whether you are looking to make a dramatic statement, or simply looking for that elegant final touch to complete your home, 1020 Glass Art has a Venetian chandelier tailored to fit your lighting needs.
Andrew Brott Art Glass Chandeliers: After twenty six years of work, Andrew has developed a style of design and execution based on creation and death, life and decay, destruction and erosion. Andrew's designs are always changing and evolving to fulfill different purposes, thus creating a natural and living aesthetic. Andrew's glass art chandeliers and lighting are inspired by the Arts and Crafts movement, uniting aesthetic and structural elements into a unified whole with breath taking craftsmanship and premium art lighting design.
About our new American Artists and Glass Houses:
Art of Fire: Located in a renovated dairy barn in Montgomery, Maryland, the five different glass blowers at Art of Fire perform each step of the glass making process themselves. No molds are used in their free blown, off-hand technique. Each unique piece is a product of years of experience and expertise.
Vitrix Glass: Passionate about bringing craft and design together to give each piece its own character, master glassblower Thomas P. Kelly trained under Thomas Buechner III in Corning, New York. The work of Vitrix Glass Studio has been collected, exhibited and published internationally and can be found in galleries across the U.S., Europe, and Japan.
Luke Adams Glass: Luke Adams is a studio glass artist working in Norwood, Massachusetts. L.A. Glass is known for its vivid, wild colors and simple, beautiful shapes.
Engler Glass: Each Engler piece is designed and made by Dylan and Amy Engler in Columbus, Ohio using flame working, kiln forming and cold working techniques. In the past year Dylan and Amy have won six awards for their newest work including first place and best in show.
Hudson Beach: Established in 1987 in an old ice factory, Hudson Beach glass is hand cast with a characteristic chill wrinkle. Hudson Beach Glass is made with found-object molds and textured materials. Available in either a semi-translucent or opaque finish, Hudson Beach's glass comes in a variety of colors inspired by precious stones.
Infinity Art Glass: The perfect marriage of both art and science, Scott Hartley's intricate blown glass is made from a furnace that runs 24 hours a day, 365 days per year near Kansas City, Missouri. Scott pours himself into his work and makes designs of all colors and sizes in paperweights, sculptures, fish, and much more.
Located in Austin, Texas, 1020 Glass Art is delighted to feature these new American artists and continues to search out more high-caliber artisans from this country and around the globe.
###