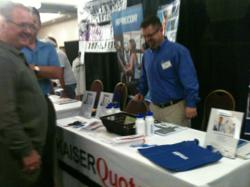 It was good to meet business owners face-to-face. Some...expressed frustration with insurance prices... it was very rewarding...to offer ideas on how to reduce costs.
Santa Rosa, CA (PRWEB) June 14, 2011
KaiserQuotes.com, a leading broker for Kaiser Permanente, is expanding its local sales efforts by going outside of its four walls. Recently, representatives participated in the Rohnert Park Chamber of Commerce Business Showcase, which was held at The Double Tree Hotel on May 26, 2011.
The outreach project was spearheaded by benefits specialist, Ronnie Neuerburg. In an interview, Neuerburg noted that participation in the outreach turned out to be a time of discovery. "Most people we spoke with did not know what type of insurance they had. Education was a big component. Explaining how we can partner in meeting their health care needs and budget restructure really gave our guests a sense of confidence." Added co-presenter, Holly Davies, "It was a good experience to meet business owners face-to-face. Some expressed frustration with insurance prices and it was very rewarding to be able to offer ideas on how to reduce costs. The best thing people can do is contact us for a customized solution."
The KaiserQuotes.com booth was manned by Ronnie Neuerburg, who took care of guests interested in personal health insurance. Holly Davies reached out to small business owners, and Angie Perez was on-hand to support the Hispanic community. The team went to the expo with great enthusiasm to create branding visibility and also to make some long lasting relationships.
The Rohnert Park Expo was a forum for companies to showcase their wares and to network. The annual event was sponsored by Comcast, Exchange Bank, Kaiser Permanente, and Northbay Biz. Along with KaiserQuotes.com, the event featured over 50 businesses, such as Wal-Mart, Wells Fargo Bank, and Mary's Pizza Shack. Some locally-recognized presenters were US Bank, Blake's Automotive, and the Press Democrat.
In addition to the usual give-aways, KaiserQuotes.com had a raffle drawing for lunch for two at Big Daddy's Restaurant, also in Rohnert Park. The showcase was open to business participants from 4:00-5:00 and to the public from 5:00-7:00 pm.
KaiserQuotes.com continues its efforts to be the #1 resource for Kaiser Permanente health insurance. The agency points to an approach that suggests the way "up" is to go "out". KaiserQuotes.com can be reached at 1-877-752-4737.
About KaiserQuotes.com
Since 2005, KaiserQuotes.com has ranked as one of Kaiser Permanente's top 5 producers of private and group health insurance. The company consists of specialists who provide personalized insurance services to individuals and businesses needing assistance with enrollment, pricing, or benefit questions. For more information, visit KaiserQuotes.com.
# # #