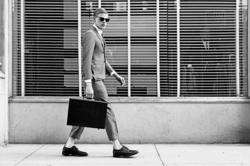 New York, NY (PRWEB) June 15, 2011
Thom Browne Inc. and DITA Eyewear Inc. announced today a licensing agreement for design, production and worldwide distribution of sunglasses and ophthalmic collection under the Thom Browne brand. The Thom Browne Eyewear collection is scheduled to launch in the fall 2011. This will be the first time both DITA Eyewear has engaged in an agreement with a luxury designer brand and for Thom Browne to step into the foray of a licensing agreement.
According to Browne, this collaboration is an important step to further develop his brand and business.
DITA Eyewear, one of the fastest growing independent eyewear companies, has distinguished itself in the eyewear industry as a clear alternative to label-branded eyewear. All DITA frames are hand made in Japan by master artisans using only the highest quality materials in premium eyewear.
The new Thom Browne Eyewear collection has been developed in collaboration with Jeff Solorio and John Juniper co-founders of DITA Eyewear and driving forces behind DITA's celebrated designs.
"Ever since the inception of DITA, we've always seen ourselves as waging a revolt against mediocrity and uniformity." states John Juniper, DITA co-founder. "Thom Browne is the only fashion brand that we believe is truly worthy enough to join us in the uprising."
"I chose to work with DITA because of their attention to quality and design. And these are two things that are the most important to me," said Thom Browne, Chairman and Chief Executive and Creative Officer of Thom Browne Inc.
The premiere Thom Browne Eyewear collection features 20 styles that draw inspiration from the master architects, politicians, studio artists, industrial designers and professors of the 40s 50s and 60s. Acetate styles in specifically developed color combinations and treatments are complimented with genuine leather, and metal mesh side cups. All components were custom designed for each style. Each style is marked with the signature Thom Browne red, white and blue logo tip and four stripe hinge. For his metal collection, all eyewear frames are made of high-grade titanium delivering strength, lightness and comfort. Key styles are finished with natural horn brow bars and cable temple ends (unseen in any other collection today).
Thom Browne Eyewear will be available at the world's most prestigious fashion & optical boutiques.
For more information, visit http://www.ThomBrowneEyewear.com.
About Thom Browne:
Thom Browne was honored the CFDA Menswear Designer of the Year Award and finalist for the Cooper Hewitt National Design Award in 2006, 2008 and 2009. He began his business with five suits and by appointment only in 2001 and introduced his ready-to-wear collection in 2003. His traditionally based hand-made suits have evolved into designs that have drawn attention from the fashion and design industry worldwide. In 2006, contracts with Brooks Brothers to design Black Fleece by Brooks Brothers, a capsule collection for men and women, and with Harry Winston to design a men's collection of jewelry were engaged. In 2009, collaboration Moncler to design a menswear line, Moncler Gamme Bleu, was introduced. The Thom Browne collection is available at luxury designer specialty stores around the world, such as Bergdorf Goodman, Barneys New York, Jeffrey New York, Colette in Paris, Dover Street Market in London, Restir and United Arrows in Tokyo.
About DITA Eyewear:
By refusing to compromise the three essential characteristics of quality; look, fit and feel DITA Eyewear has become one of the fastest growing independent eyewear companies. Co-founders Jeff Solorio and John Juniper have earned international acclaim and the status of being some of the worlds most influential eyewear designers. All DITA frames are hand made in Japan using only the highest quality materials, including titanium, 18K gold, white gold and the finest zyl acetates. Each new DITA design is an artistic statement, the expression of our belief that there are a select few who demand and dare to wear eyewear unbound by convention.
###